Special Seminar on "Kazi Nazrul Islam and Interfaith Harmony"
Special Seminar on "Kazi Nazrul Islam and Interfaith Harmony"
Updated 2012-04-13 10:29:44
Professor Saumitra Shekar of the Department of Bangla and an active member of Religions for Peace (RfP), Bangladesh presented the keynote paper. Principal Pranab Kumar Barua, Vice President of RfP-Bangladesh and the Secretary General of Bangladesh Buddhist Cultural Propagation Society, Professor Hirendra Nath Biswas, Vice President of RfP-Bangladesh and the President, Bangladesh National Hindu Reformation Society; Dr. Marufi Khan, Principal Ispahani Girls' College, Dhaka and Professor Fr. Tapan Camilus De Rozario, Vice President of RfP-Bangladesh and Director, Pontifical Mission Society of Bangladesh took part in the discussion.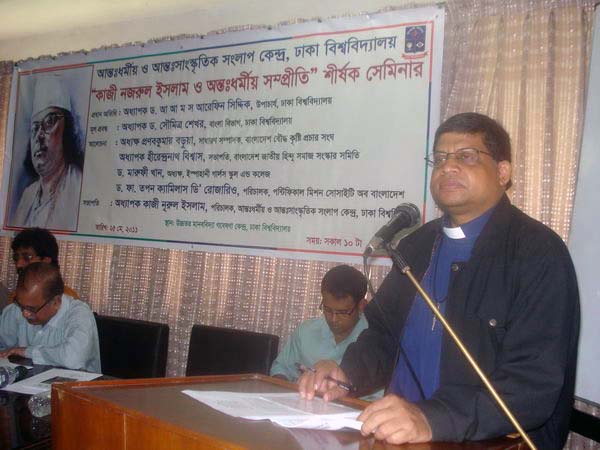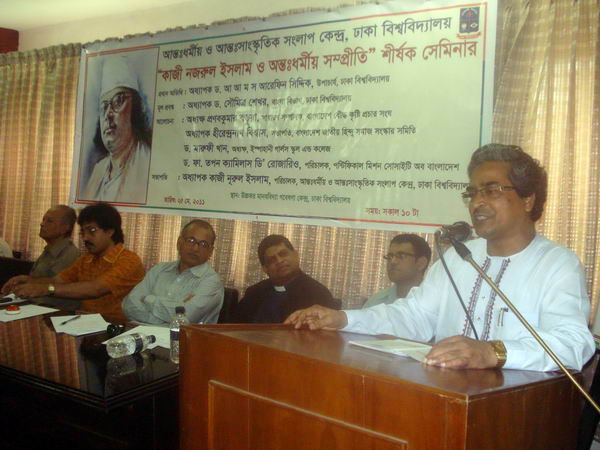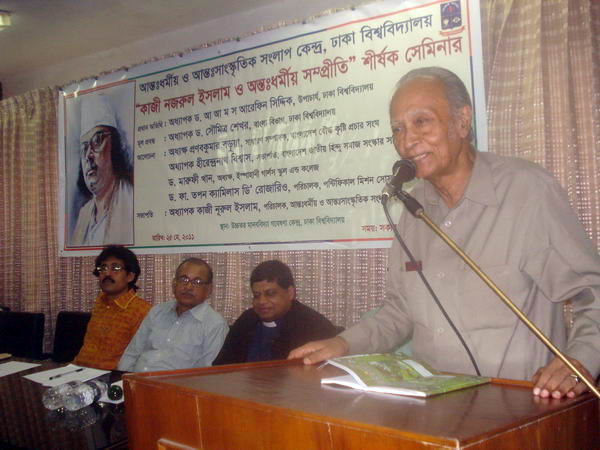 Professor AAMS Arefin Siddique, Vice Chancellor, Dhaka University graced the occasion as the Chief Guest while Professor Kazi Nurul Islam, Chairman, Dept. of World Religions and Culture and the President of ACRP, Bangladesh presided over the program.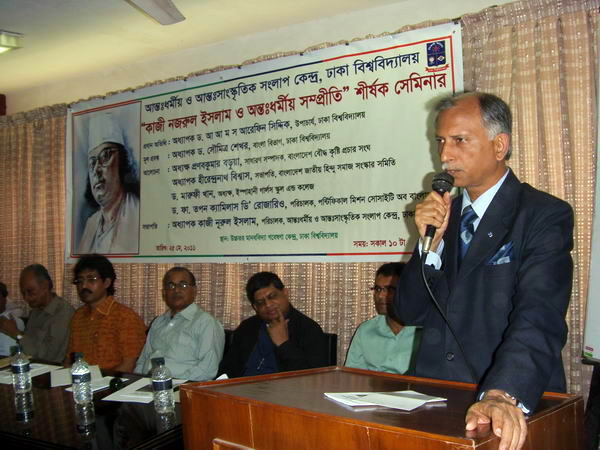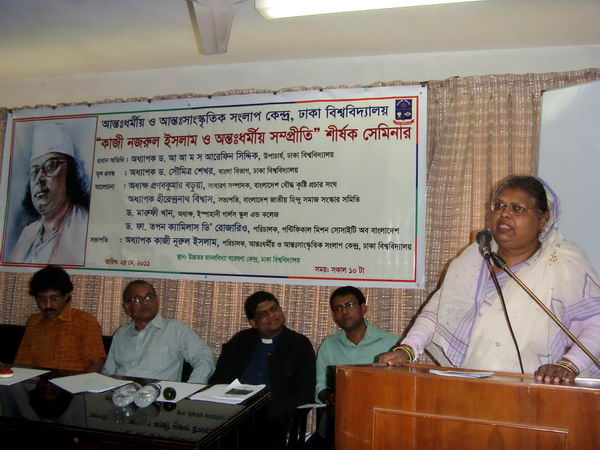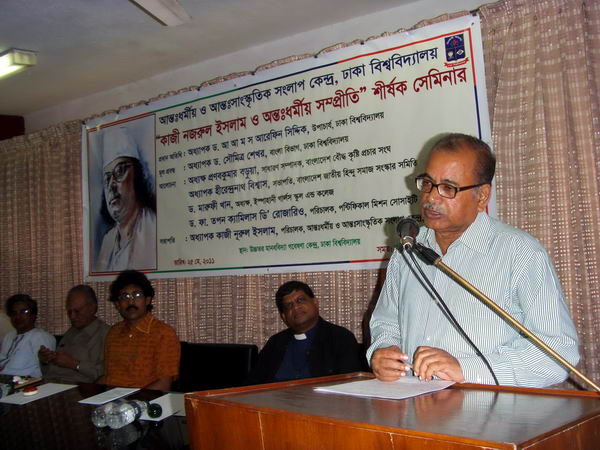 Professor Saumitra asserted that we do not find any individual in the history of human civilization who can be compared with Nazrul as far as the contribution of promoting interfaith understanding is concerned. The Chief Guest Professor AAMS Arefin Siddque expressed with great sadness that religion is being used, misused and abused by a section of people everywhere in the world. To get rid of these people and to promote interfaith understanding we must devote ourselves to the objective study of different religions of the world.
In his presidential address Professor Kazi Nurul Islam urged the United Nations to declare Kazi Nazrul Islam's birthday (May 25) as the Universal Interfaith Harmony Day.
Kazi Nazrul Islam (1899-1976):
A Symbol of Interfaith Harmony
Kazi Nazrul Islam (1899-1976), the National Poet of Bangladesh, was born in a society that was torn apart by class division, religious separatism and communal hostility during British India. And yet he played a vital role in promoting communal harmony in Bengal and his thoughts and ideas became popular throughout the sub-continent. He evolved himself through a long trek of differing thoughts and ideologies and when he reflected, as an enlightened person, upon the backwardness and obscurantism of the society, he felt embittered and mortified.
At last he came to the realisation that for the true emancipation of India and the fulfilment of humanistic ideals, communalism must be eradicated and amity between Hindus and Muslims has to be established. Accordingly he went on composing and singing inspiring songs of Hindu-Muslim unity. Not only this, he virtually waged a war against communalism and always remained an ardent and vocal campaigner in pursuit of his ideals. His non-communal and humanistic consciousness was a moving force in his literary activity from the beginning. Nazrul consciously upheld this non-communalism throughout his life, in words and deeds. For a good reason today artists of Bangladesh and India sing– 'Rabindranath is in everyone's heart, and in consciousness there is Nazrul'.
In his quest for truth Nazrul attached more importance to humanistic values than to visits to mosques and temples. He believed that unless man could be uplifted by the higher ideals of humanism, mere visits to shrines and worshipping there would be of no use. 'Man is above everything, nothing is above man'– this universal humanism of the medieval poet Chandidas found a stronger expression in Nazrul's works.
Hence his bold assertion: "No prophet has said, 'I have come for Hindus, I have come for Muslims, I have come for Christians'. They said 'that they came for humanity, for everyone. But the devotees of Krishna say, 'Krishna is for the Hindus'. The followers of Muhammad (pbuh) say, 'Muhammad (pbuh) is for the Muslims'. The disciples of Christ say, 'Christ is for the Christians'. Krishna-Muhammad-Christ have become national property." He said repeatedly that this proprietorship of religion is at the root of all trouble. With extreme pain in his heart Nazrul mentioned that men do not quarrel for light but they quarrel over cattle.
In his celebrated Ognivina (Fire and Lute) Nazrul asserted that he was not a Hindu or a Muslim, he was for all men, all religions. In his writings Hindu and Muslim traditions have been so completely harmonised that it is difficult to extricate one from the other. It was Nazrul's aim to remove the religious separatism and yawning gulf between man and man and uphold the greatness of man. Religion is created for man and is intended to advance the wellbeing of man. Let man embrace this religion and let love of man be held supreme – this was Nazrul's utmost desire. That is why he sang fervidly –
I sing of equality–
There's nothing greater than a human being, nothing nobler!
Caste, creed, religion– there's no difference.
Throughout all ages, all places, we're all a manifestation
Of our common humanity.
Manush (Human Being)
The contemporary Hindu-Muslim enmity provoked him to write:
Who are they– hating human beings?
Yet kissing the Quran, the Vedas, the Bible?
Snatch away those books from them.
The hypocrites pretend to worship those books
By killing human beings who, in fact,
Brought those books into existence.
Listen, you ignorant: Human beings
Brought the books,
No book ever brought human beings!
Manush (Human Being)
Therefore, to uphold the glory of God in the bosom of humanity Nazrul wrote:
The whole creation looks at you,
While your own eyes are shut,
You search for the Creator.
Instead of searching for your self,
O self-inflicted blind– open your eyes,
Look at yourself in the mirror.
You'll see– His shadow falls on your body.
Iswar (God)
Many from both the Hindu & Muslim communities turned bitterly resentful towards him. Under the British policy of 'divide and rule' when these two communities were thus feuding the differences of their scriptures turned into communal hostility. In this violent state of intolerance Nazrul heralded the ideals of equality. He wanted to transcend not only the religious bounds but also the social and economic barriers, and he dreamt of the day when all inequality between man and man shall cease to be. This was bitterly resented by orthodox quarters of both the communities.
Nazrul saw the image of the Creator in every human being. He vanquished ignorance leading to the victory of knowledge. He was inspired by the immortal message of the Quaran ––' O my Sustainer, extend the orbit of my knowledge. Let me not despire the Beautiful, or grow a contempt for man.' Nazrul's poetry is animated by a powerful heroic energy. His rejection of all pettiness and communalism finds exquisite expression in the poem Samyabadi (the Socialist) where Nazrul asked:
Who are you?– A Parsee? A Jain? A Jew?
A Santal, a Bheel or a Garo?
A Confucian? A disciple of Charvak?
Go on– tell me what else are you.
Whoever you are, my friend,
Whatever holy books or scriptures
You stomach or carry on your shoulder
Or stuff your brains with– the Quran, the Puranas,
The Vedas, the Bible, the Tripitaka, the Zend-Avesta,
The Grantha Saheb– why do you waste your labour?
Why inject all this into your brain?
Why all this– like petty bargaining in a shop
When the roads are adorned with blossoming flowers?
Open your heart– within you lie
All the scriptures,
All the wisdom of all ages.
Within you lie all the religions,
All the prophets– your heart
Is the universal temple
Of all the gods and goddesses.
Samyabadi (the Socialist)
A great lover of mankind Nazrul continued:
This heart is Neelachal, Kashi, Mathura,
Brindaban, Budh-Gaya, Jerusalem, Medina, Ka'aba.
This heart is the mosque, the temple, the church.
This is where Jesus and Moses found the truth.
Samyabadi (the Socialist)
In the poem Mora Dui Sahodor Bhai (We are two Brothers of the Same Mother) Nazrul said:
Hindu-Muslim, we are brothers
Two flowers from the same stem.
And Bharat is our motherland.
In another song he sang:
We are two flowers on the same stem– Hindu-Mussulman!
Muslim its pearl of the eye, Hindu its life!!
In the backdrop of Hindu-Muslim riots Nazrul composed his famous 'Kandari Hushiar' (Be aware Captain). He urged the younger generation to rise above the Hindu-Muslim question by understanding the high values of Humanism. In this poem he again said:
'Hindu or Muslim?' who asks this question?
Captain, say: 'drowning fellows are
The children of my mother'.
Kandari Hushiar (Be Aware Captain)
He visualised a day when Hindus and Muslims shall hug each other in warmest embrace as though they were each other's kin. That would indeed be a much awaited emotive moment for him. He fondly hope that this unity shall show the way to permanent unity between Hindus and Muslims which will foster the development of unalloyed humanism. It is with this noble goal in view that Nazrul came out with the proclamation: 'Let a Hindu remain Hindu, a Muslim remain Muslim. Let them all come together under the infinite sky and pronounce the pristine words of creation – that I am a human being, my religion is the religion of humanity'.
Nazrul's ideal of Hindu-Muslim unity has served as a powerful impetus for the attainment of universal brotherhood. This is one of the main reasons why the Centre for Interreligious and Intercultural Dialogue and the Department of World Religions and Culture of Dhaka University have been celebrating the 25th May, the Birthday of this great poet as the Universal Interfaith Harmony Day.
Prepared and circulated by
Professor Dr. Kazi Nurul Islam
Director
Centre for Interreligious and Intercultural Dialogue
Dhaka University, Bangladesh
On September 19, 2010, we, four faculty members of the Department of World Religions and Culture of the University of Dhaka, Bangladesh, visited Viet Nam at the invitation of His Eminence Cardinal Thuong Tam Thanh, Chairman of the Sacerdoce of Cao Dai religion. We were led by Professor Dr. Kazi Nurul Islam, Founder and Chairman of the Department of World Religions and Culture. At Tan Son Nhat International Airport, Ho Chi Minh City, the cheerful hosts of the Caodai leaders from home and abroad greeted and welcomed us. They gave us a warm reception in a luxurious hotel of Ho Chi Minh City where we stayed for three nights and two days. Mentionably, Rev. Canh Tran, honorable president of Caodai Overseas Missionary, Washington DC, USA, Mrs. Canh and Mrs. Nguyen Ngoc Lan took the total care of our team. The tour became a reality because of Rev. Tran Canh's unfailingly efficient and consistent efforts.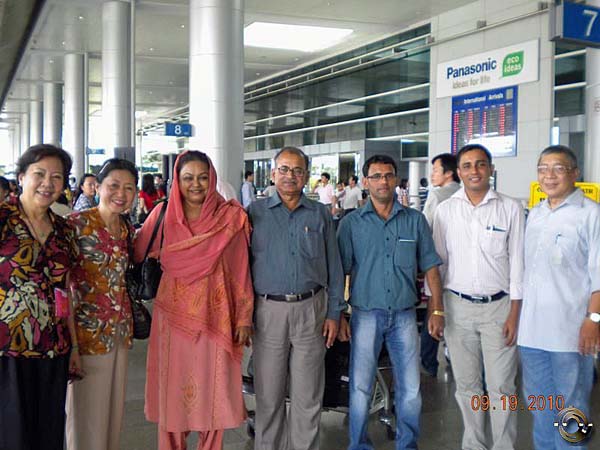 On Sept. 20, we visited different places of religious and historical importance of Ho Chi Minh City. These included Independence Palace (Presidential Palace), Ho Chi Minh Municipal Theatre also known as Opera House, City Post Office, Notre-Dame Cathedral, a chinese market as well as many pagodas and churches. Ho Chi Minh City has various attractions as its many ancient architectural constructions and various beautiful buildings display an assimilative characteristic of Vietnamese, Chinese and European cultures. We have also experienced and enjoyed its harmonious blending of traditional national values with northern and southern cultural features. Ho Chi Minh is a cosmopolitan city. Formerly known as Saigon, the capital of the Republic of South Vietnam, it is a kind of place where commerce and culture are marked to be assimilated in a totally unique way. Its towering skyscrapers, shopping and nightlife, touring the city during the day indicate the latest city fashions.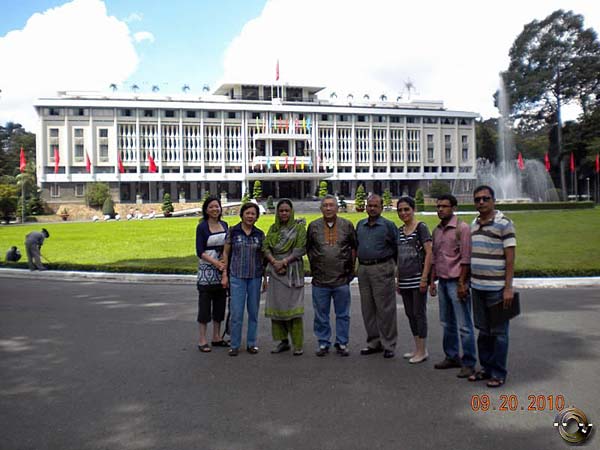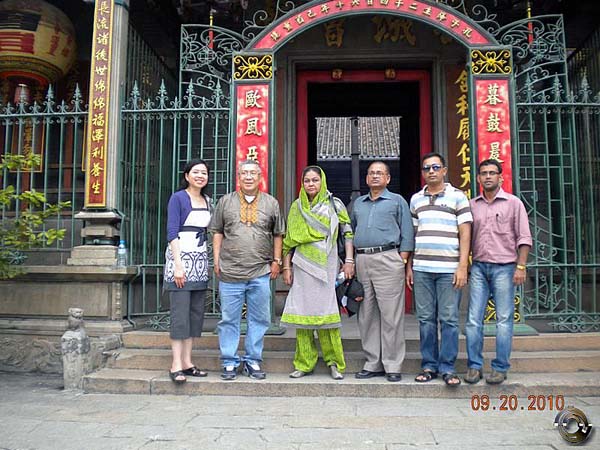 On 21st September we took a two-hour road trip from Ho Chi Minh to the Cao Dai Holy See in Tay Ninh which is approximately 100 km northwest of Saigon. We were given an official reception at the office of the Chairman of Caodai religion where we had an official meeting with the Chairman, Cardinal Thuong Tam Thanh, as a part of our tour to establish an official relation between the Caodai Sacerdotal Council and the Department of World Religions and Culture. In the beginning of our meeting we handed over a report on Caodai Course that is taught in the department. Then we met Her Eminence Cardinal Huong Nhin, Deputy Chairwoman of the Sacerdotal Council. We talked on different issues related to Caodaism and its relation with the Department of World Religions and Culture. We had a meaningful discussion. At the end of our meeting we handed over books, published by Caodai Overseas Missionary Washington DC, USA, entitled Caodaism A Syncretistic Religion of Vietnam and The Concept of Unity in Bahai Faith and Caodaism written by Md. Shaikh Farid and Mohammad Jahangir Alam respectively. In his official speech, Professor Dr. Kazi Nurul Islam appreciated the Caodai Community for their spiritual beauty and immeasurable contribution in promoting the unity of God and the unity of mankind. In an interview with a satellite television of Viet Nam, Professor Azizun Nahar Islam said that a collective enterprise of the Caodaists would bring a new force to social, administrative, political, cultural and economic activities of Vietnam in the near most future.