A VISIT TO THE TOMB OF VICTOR HUGO AND TO ALLAN KARDEC SPIRITIST CENTER
A VISIT TO THE TOMB OF VICTOR HUGO AND TO ALLAN KARDEC SPIRITIST CENTER
Updated 2012-08-10 11:43:56
(Reported by Tua Le. Paris, April 3rd, 2012- Translated by Tuan Em)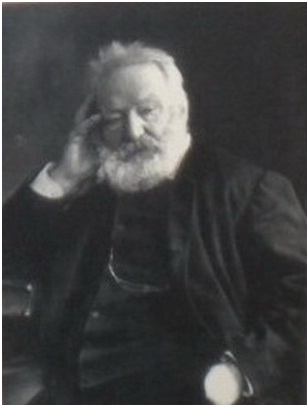 After making a presentation on Caodai Religion at Vienna University in Austria, the delegation of Caodai religion's overseas missionary comprising of 13 members from different states such as Washington DC, Virginia, New Jersey, Massachusetts and New York headed for Paris, the capital city of France on March 30th, 2012.
The purpose of this journey is to visit the tomb of Nguyet Tam Chon Nhon, or Victor Hugo, the Superintendent of Monasteries. Few Caodai followers have ever had chance to visit this place since the establishment of the religion. Therefore, this is a once-in-a-lifetime chance for us, Caodai followers.
The tomb of Nguyet Tam Chon Nhon is located within the Panthéon building, right in Central Paris. The building was originally built as a church in 1758 under the reign of King Louis XV. Then, in 1791, the French National Assembly decided to change this building from a church to a mausoleum for of the internment of distinguished French citizens. The inscription above the entrance reads "Aux Grands Hommes La Patrie Reconnaissante" (To the great men, the fatherland is grateful). The Panthéon building now contains the remains of around 80 great Frenchmen including writers, poets, scientists and politicians who were not only famous in France but also in the world such as Voltaire, Jean-Jacques, Rousseau, Victor Hugo, Emile Zola, Marie-Curie, Louis Braille, Jean Jaurès, etc. The Caodai delegation came, prayed and took pictures in front of the grave of Nguyet Tam Chon Nhon.
Two days earlier, on March 28th, 2012, the Caodai delegation took an express train to Lyon city according to the invitation of a local Allan Kardec Spiritist Center (Centre Spirite Lyonnais Allan Kardec). The invitation was the result of the Center's own discovery that Caodai religion had been found on "spiritualism". An article about Caodai Religion was written and published in its Journal "Le Spiritisme" in September 2011. Therefore, they would like to meet with Caodai followers for more information about the religion. It is also necessary to remind one of God's divine teachings in The Collection of Sacred Messages : It was recorded that on Wednesday October 27th, 1926 (Lunar calendar September 21st, Binh Dan (Year of tiger)), God preached about Allan Kardec as follows: "Human beings are currently suffering all kinds of vissicitudes. I have sent Allan Kardec, I have sent Flammarion, as I have sent Élie and Saint Jean Baptiste, precursors of the advent of Jesus Christ. However, they all one by one were either tortured or killed. By whom? By human beings! Even My own children were killed by you. You only know how to venerate other human beings by their spirit, not by their saintliness". (L'humanité souffre de toutes sortes de vicissitudes. J'ai envoyé Allan Kardec, j'ai envoyé Flammarion comme j'ai envoyé Elie et Saint Jean Baptiste, précurseurs de l'avènement de Jésus Christ; l'un est persécuté, et l'autre tué. Et par qui? Par l'humanité. Mon fils est aussi tué par vous; vous ne le vénérez qu'en Esprit et non en Sainteté).
It can be said that Allan Kardec was a Saint granted a mission by God to create and establish Spiritualism serving as a base for the future appearance of a religion. Therefore, Allan Kardec Spiritist Center and Caodai Religion have something in common. What both of these organizations need now is time to meet and cooperate in terms of spiritualism in order to investigate the mystery of the unseen world. For example, where will our souls go after leaving this world?.
Allan Kardec, whose real name is Hippolyte Léon Denizard Rivail, was born in 1804 in Lyon, France and died in 1869 (at the age of 64). He was a teacher of maths, chemistry and physics. He did not study about souls and spiritualism until he was 51 years of age. He invented the noun "Spiritisme" (In English it is called Spiritism and in Vietnamese Than Linh Hoc) and wrote several famous books of the Spiritist Codification such as The Spirit's Book, The Book on Mediums, The Gospel according to Spiritism and Heaven and Hell.
These books were written via spiritualism. In other words, they were written via thousands of messages received from the unseen world and have been translated into dozen of different languages but not yet in Vietnamese. Allan Kardec Spiritist Centers are present all over the world. Most of them are in America, Europe and South America. Every five years, the Allan Kardec Spiritist Center hosts an international spiritualism conference attended by about a thousand delegates, most of them are mediums.
Another reason for visiting the Allan Kardec Spiritist Center in Lyon is because this city is the birthplace of Allan Kardec and this center is also very well-known in the Spiritism community for its tasks of training mediums (the same as The Palace of Divine Alliance of the Caodai religion used to do) and hosting weekly spiritist sessions for the public. It means anyone who wants to keep in touch with their passed-away relatives can do so with the help of mediums at the Center.
Student-Priest Ngoc Canh Thanh and his delegation received warm welcome from Mr. Gilles Fernandez, director of the Center, who then explained to the delegation the Center's activities, methods for training mediums, rituals and conditions for the public if they want to join.
In return, Student-Priest Ngoc Canh Thanh briefly talked about the Caodai religion, especially about the Spiritualism and explained the difference between the spiritist methods in Europe and Tay Ninh, Vietnam. After that, the Caodai delegation took part in a spiritist session offered to the public for an hour. In that session, the Caodai delegation had asked the unseen world about many things. At the end of the visit, Student-Priest Ngoc Canh Thanh presented the Center a few books about Caodai and a plaque of Caodai Holy See in Tay Ninh, Vietnam for souvenir.