ITALIAN CESNUR DIRECTOR AND HIS WIFE ON TOUR TO CAODAI TEMPLES IN HOI AN AND DAI LOC, QUANG NAM PROVINCE, CENTRAL VIET NAM
ITALIAN CESNUR DIRECTOR AND HIS WIFE ON TOUR TO CAODAI TEMPLES IN HOI AN AND DAI LOC, QUANG NAM PROVINCE, CENTRAL VIET NAM
Updated 2023-07-25 18:31:26
(Quang Nam 23/7/2023 - Reported by Le Thi Lam Caodai TV)
After their visit to the two Cao Dai Temples in Hanoi, Professor Massimo Introvigne and Professor Rosita continued their excursion to another two Cao Dai Temples in Hoi An City and Dai Loc District in Quang Nam Province, aiming to explore the religious and cultural life of the two Cao Dai Communities in central Vietnam.
1. Prof. Massimo Introvigne - Director of Center for Studies on New Religions (CESNUR) in Italy.
2. Prof. Rosita Soryte - Former Permanent Mission of Lithuania to the Council of Europe, and the United Nations in New York.
At 15:00 P.M, on Sunday, 6 Lunar June, Year of the Cat (Solar calendar: 23/7/2023), Bishop Thai Huan Thanh, Head of the Cao Dai Temple in Hoi An and several other Cao Dai members hosted a warm welcome to the two special guests to their brand-new temple which was inaugurated just two days earlier.
On one of his casual Facebook posts, Professor Massimo gladly shared, "The local Cao Dai brothers and sisters arranged a fantastic welcome and visit. The atmosphere of the grand opening still was in the air."
After a short visit to the main hall of the temple in Hoi An and some group photos, the two professors went on to visit the Cao Dai temple in Dai Loc District which is approximately 35 km away. In Dai Loc, they were warmly welcomed by Sub-dignitary Le Van Hat, Interim Head of the temple and about 50 other Cao Dai members.
In this temple, the two professors had an unforgettable experience when they enjoyed Cao Dai ritual music and scripture chanting performed by a Children's Choir in their weekly practice and sampled some tropical fruits and Quang Noodle Soup Specialty.
Professor Massimo and Professor Rosita also attended the six o'clock service at the temple and paid a visit to a private home of a Cao Dai member in the community.
Professor Massimo posted on his Facebook page, "It was one of our best Cao Dai experiences ever. A good part of the villagers (600 plus the children) are members of Cao Dai. Their temple date back to 1938. A village ravaged by poverty and flood really found hope and resilience in Cao Dai."
The two professors were impressed by the typical hospitality of Cao Dai people and extended their special thanks to the Cao Dai people in these two places for a very warm welcome.
This visit added to the two professors' Cao Dai experience from North to South of Vietnam. It is definitively true that the images of Cao Dai Temples and Communities will follow the two professors' steps throughout the world.
Some snapshots of the visit:
VISIT TO HOI AN CAO DAI TEMPLE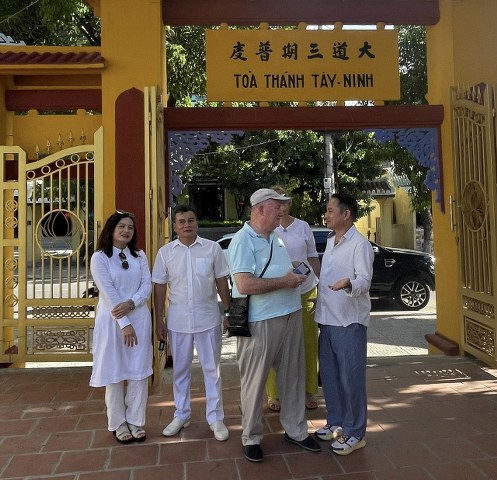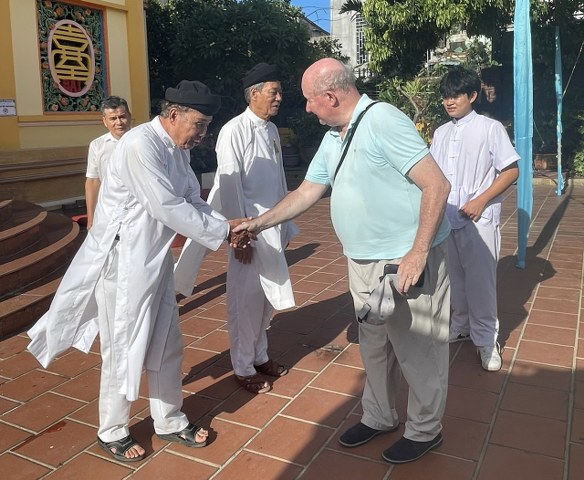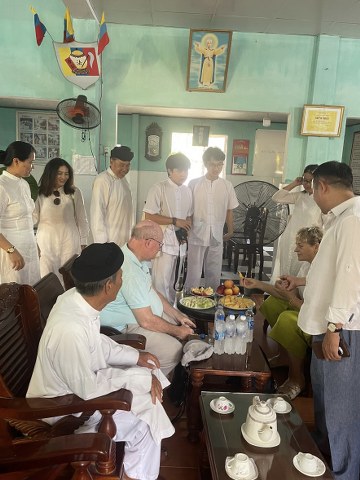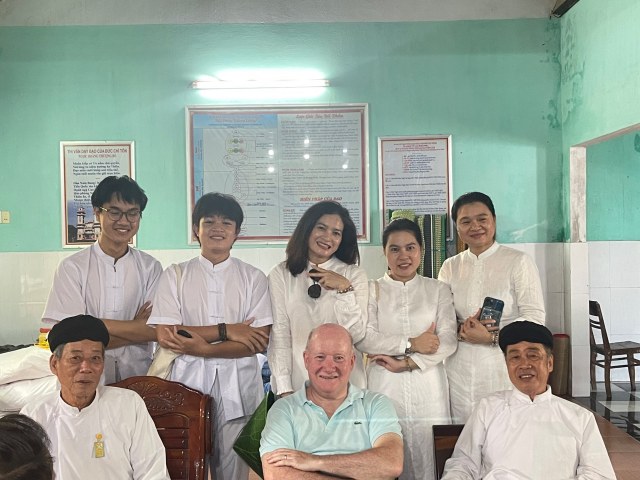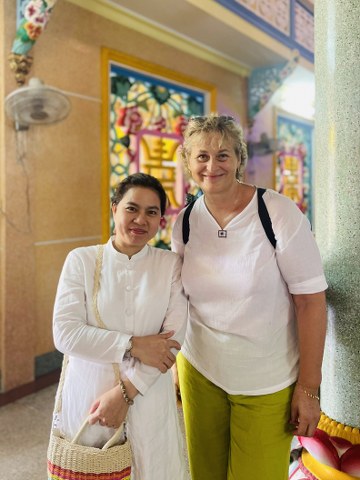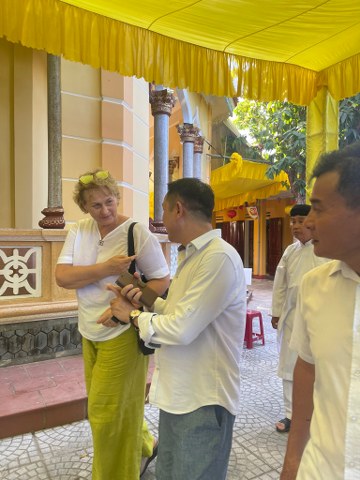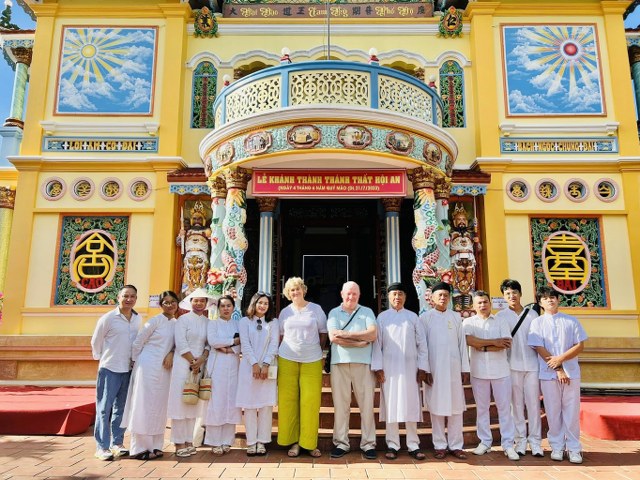 VISIT TO DAI LOC CAO DAI TEMPLE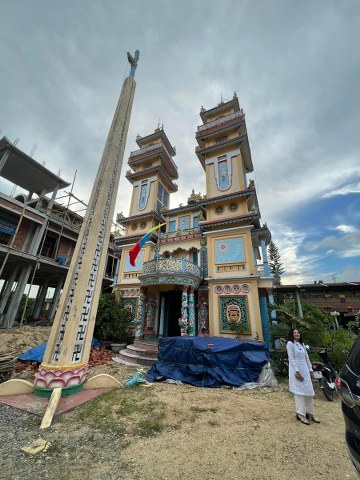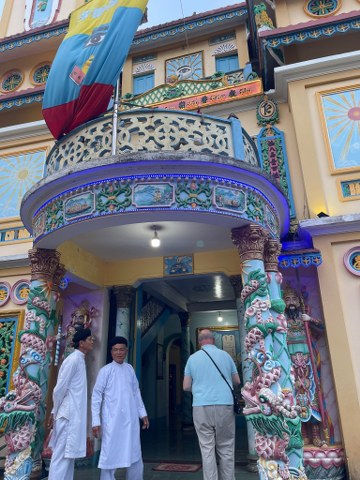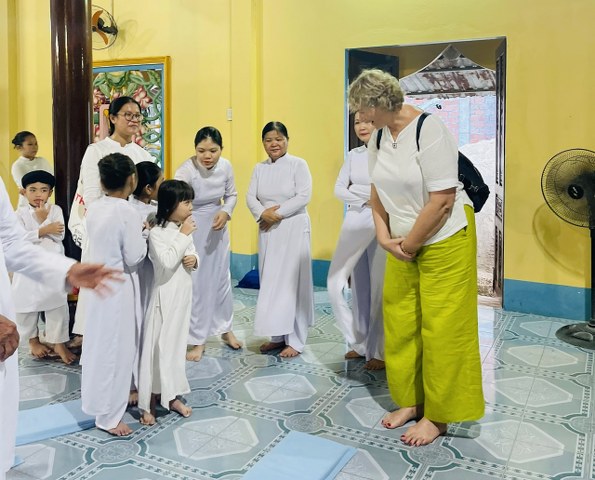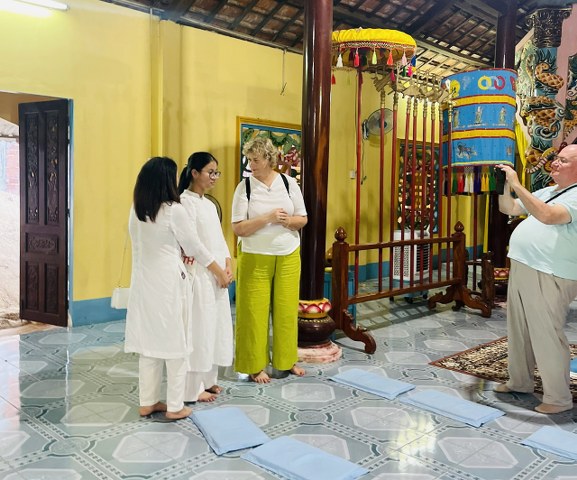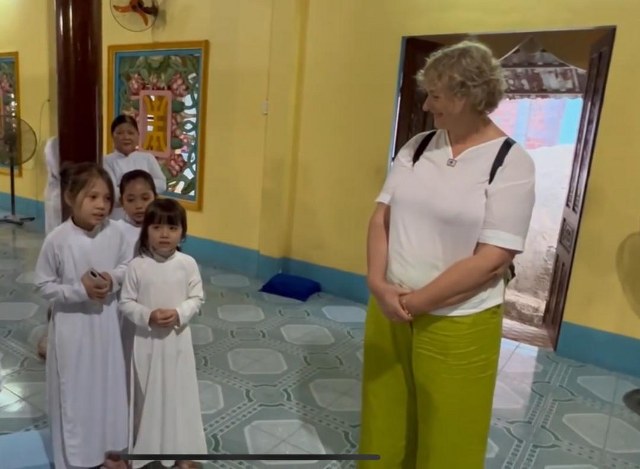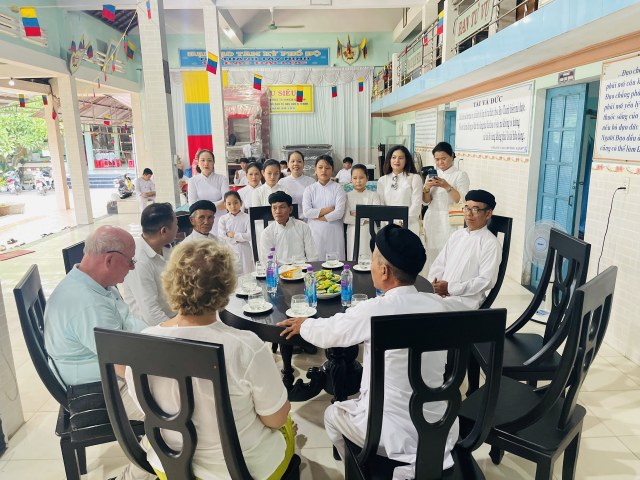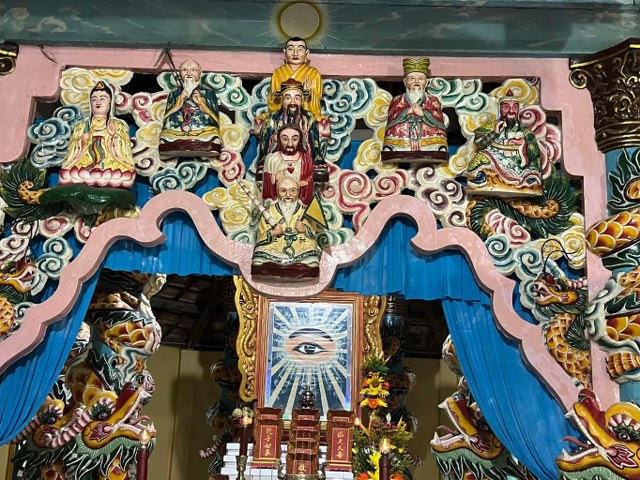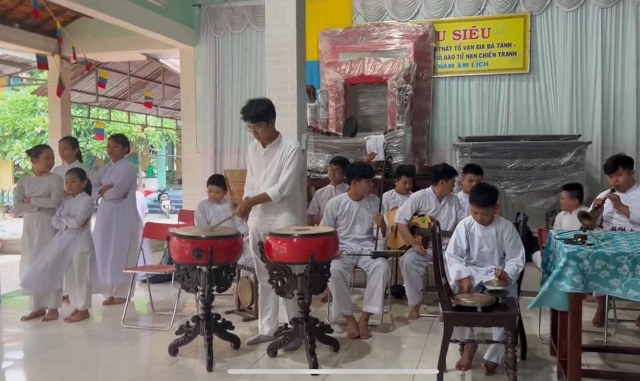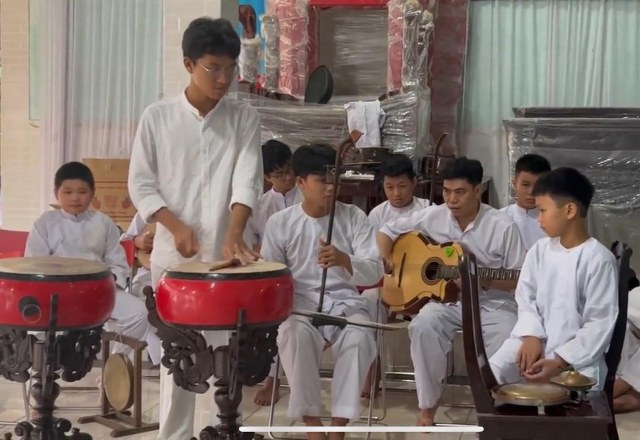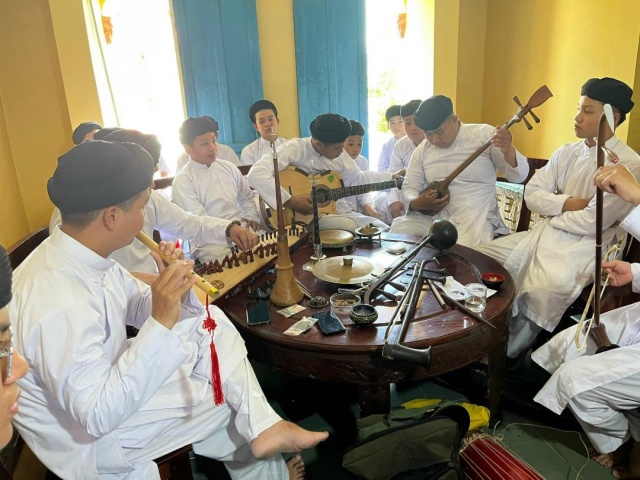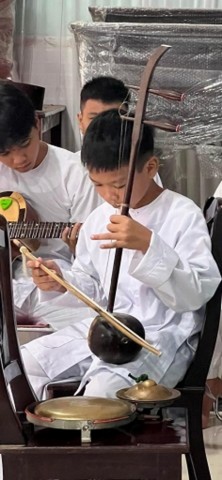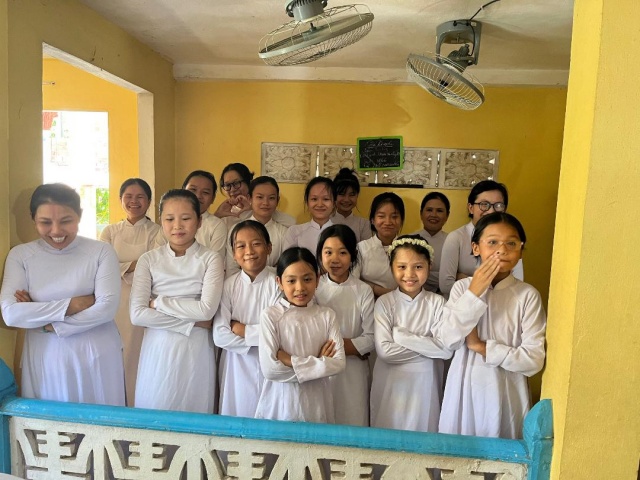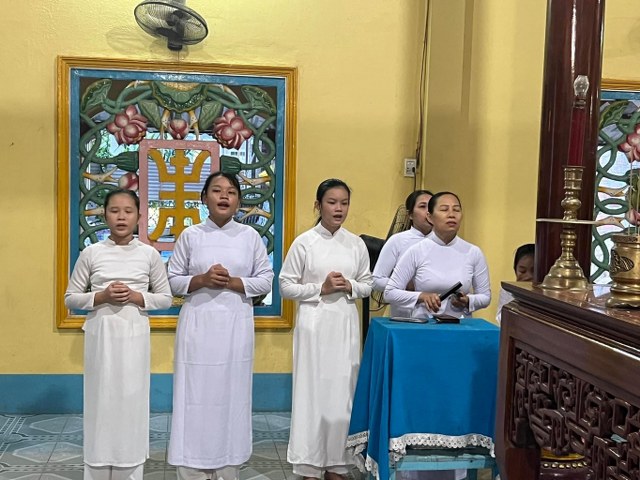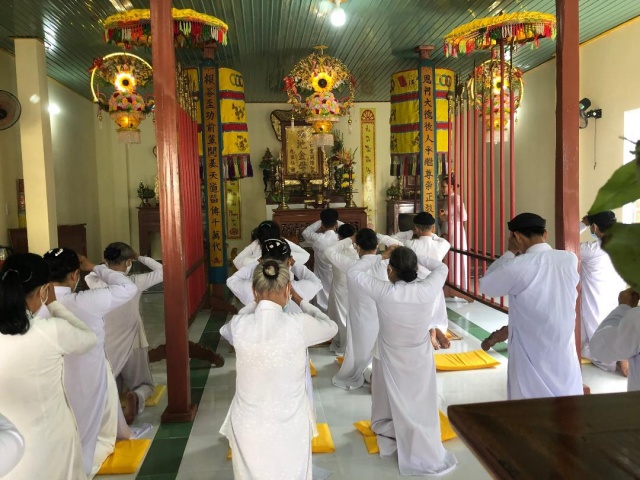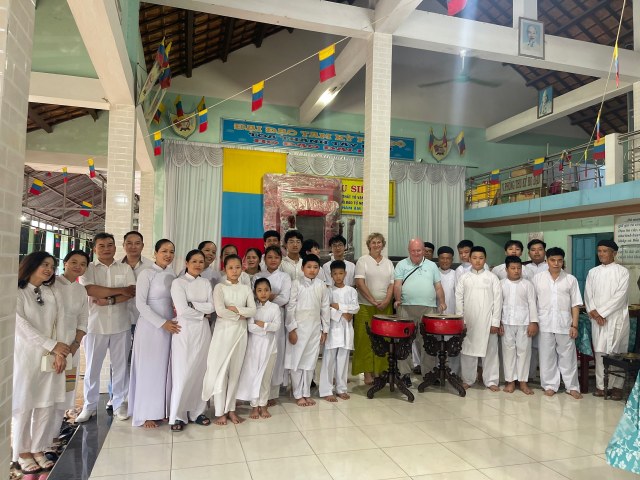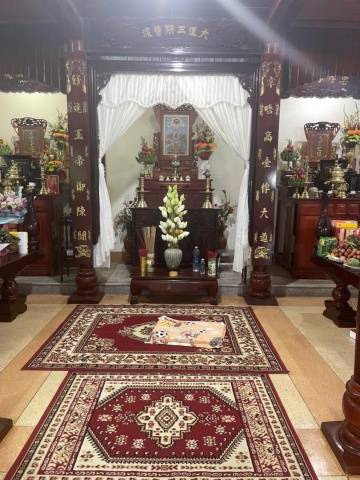 VISIT TO A CAO DAI 'S HOME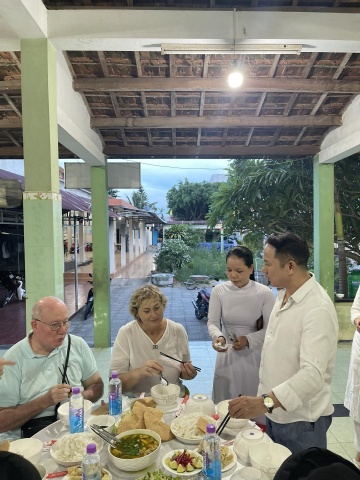 ENJOYING QUANG NOODLE SOUP SPECIALTY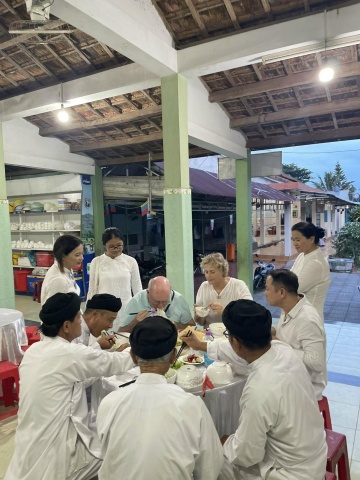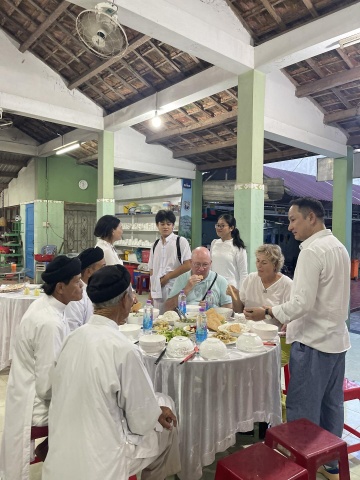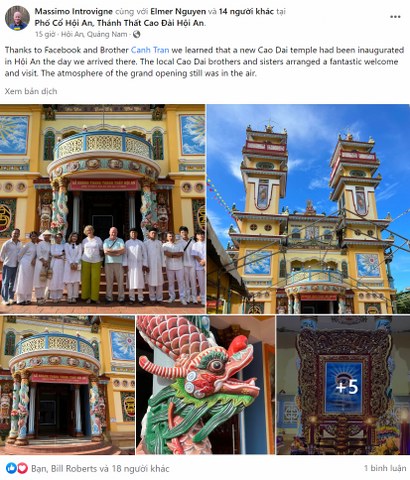 FACEBOOK OF PROF. MASSIMO