THE SACERDOTAL COUNCIL OF CAO DAI TAY NINH HOLY SEE JOINS THE WORLD ALLIANCE OF RELIGIONS FOR PEACE SUMMIT IN SEOUL, SOUTH KOREA (Day 4)
THE SACERDOTAL COUNCIL OF CAO DAI TAY NINH HOLY SEE JOINS THE WORLD ALLIANCE OF RELIGIONS FOR PEACE SUMMIT IN SEOUL, SOUTH KOREA (Day 4)
Updated 2014-09-25 22:06:00
(Reported from Seoul, South Korea on September 18th, 2014 by Archbishop Thai Con Thanh, Archbishop Ngoc Hong Thanh and Deacon Thuong Canh Thanh. Pictures by Nguyen Tri Luc- Translated by Tuan Em)
Day 4 - In Seoul, South Korea – Sept. 19th, 2014
Today, Friday September 19th, 2014 is the fourth day the Cao Đai delegation stayed in Seoul and was also the last day of the Summit.
At 9:00 a.m, the Cao Đai delegates arrived at the World Peace Gate in the Seoul Olympic Park to join the Peace Walk.
There were around 100,000 people including 133 delegations from 82 nations in this walk.
H.E. Man Hee Lee, Chairman of HWPL and Mrs. Nam Hee Kim, Chairwoman of IWPG kicked off the "Walk for World Peace" with an exhorting address.
In the Korean traditional drums and whistles, H.E. Man Hee Lee and Mrs. Nam Hee Kim led the walk followed by delegates and participants who were waving flags, screaming the slogan "The world is One. Humanity is One. We love Peace"
The Peace Walk participants marched for around a kilometer long and dismissed in the warm atmosphere of the Seoul Autumn.
After the three-day conference, all the religious delegations bade a warm farewell to one another.
Generally speaking, the participation in this World Alliance of religions for peace summit 2014 in Seoul, South Korea of the Cao Dai Sacerdotal Council was a great success.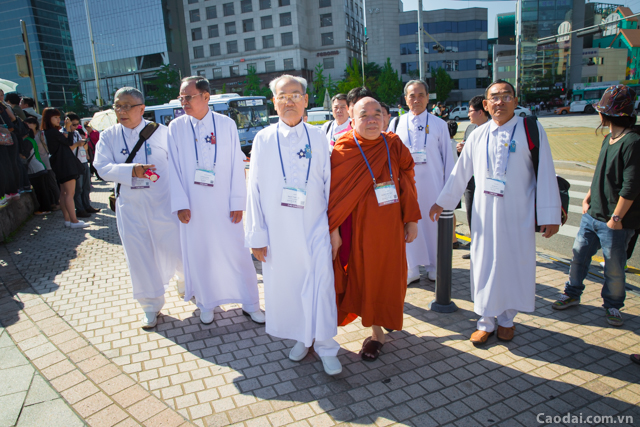 Buddhist Abbott Thích Thiền Tâm and the Cardinal at the Olympic Park