THE SACERDOTAL COUNCIL OF CAO DAI TAY NINH HOLY SEE JOINS THE WORLD ALLIANCE OF RELIGIONS FOR PEACE SUMMIT IN SEOUL, SOUTH KOREA (Day 3)
THE SACERDOTAL COUNCIL OF CAO DAI TAY NINH HOLY SEE JOINS THE WORLD ALLIANCE OF RELIGIONS FOR PEACE SUMMIT IN SEOUL, SOUTH KOREA (Day 3)
Updated 2014-09-25 21:58:32
(Reported from Seoul, South Korea on September 18th, 2014 by Archbishop Thai Con Thanh, Archbishop Ngoc Hong Thanh and Deacon Thuong Canh Thanh. Pictures taken by Nguyen Tri Luc- Translated by Tuan Em)
Day 3 - In Seoul, South Korea – Sept. 18th, 2014
At 8:00 am on Thursday morning, September 18th, 2014, the Cao Đai delegation departed from the hotel and arrived at the IWPG Conference Hall at 10:30 am. The room was completely filled with approximately 2,000 delegates.
H.E. Man Hee Lee, Chairman of HWPL and Mrs. Nam Hee Kim, Chairwoman of IWPG delivered each an address to kick off the conference.
Then, the nine keynote speakers presented on the topic "How to end wars and create peace".
· H.E Harris Silajdzic, Member of the Presidency of Bosnia Herzegovina, Chief of State, Prime Minister and Foreign Minister of the country
· H.E Shawki Ibrahim Abdel-Karim Allam, Grand Mufti of Egypt
· Rabbi Yaakov Do Bleich, Vice President of World Jewish Congress
· H.H. Swami Chidanand Saraswatiji Maharaj, President of Parmarth Niketan Ashram
· Ven. Dr. Ashin Nyanissara, Founder of Sitagu Buddha Vihara.
· Singh Sahib Giani Gurbachan SinghJi, Jathedar of the Akal Takht
· H.E Constantinescu, Former President of Romania
· The Most Rev. Antonio J. Ledesma, Arcbishop of Cagayan de Oro, Philippines
· The Most Rev. Martin De Jesus Barahona, Head of the Anglican Church in El Salvador and Central America
Next came the signing ceremony where all representatives present in the conference room signed the Peace Agreement entitled "Unity of Religion Agreement". Each received a copy after signing it.
Lunch break was at 14:15 pm.
His Eminence Cardinal Thuong Tam Thanh was interviewed by Australian TV station SBTN and Vietnamese VTV channels.
The conference started again with group discussions. There were ten groups . The Caodai delegation was in Group Session 2-4, starting at 7:00pm. In this group session, the speakers were:
· H.E. Eduardo Duhalde, Former President of Argentina
· H.E. Bajram Kosumi, Former Prime Minister of Kosovo
· H.E. Hrant Bagratyan, Former Prime Minister of Armenia
· Mr. Haitham Al-Mayahi, President of US-Iraqi Youth Institute.
· Rev. Dr. Medardo Gomez, Bishop of Lutheran Church of El Salvador
Next, the Organizing Committee invited two guests to the Chair Panel discussion:
1. Mr. Shaykh Abdool Rahman Khan, Chairman of North American Islamic Society.
2. His Eminence Cardinal Thuong Tam Thanh, Head of the Executive Council of the Cao Dai religion.
Towards the end of the conference, His Eminence Cardinal shared his thoughts to the ongoing conflicts in many countries of the world. He wondered whether private interests and personal profits were the culprit of several conflicts between nations. In his opinion, in order to resolve those conflicts, world religions should unite to educate their believers first, then to educate society afterwards with their sincere heart. Then, peace will be hopefully coming. He emphasized that the philosophy of the Cao Đai Religion is to treat all human beings as brothers and sisters, share affection, helping one another for the prosperous development of the world.
The Cardinal's comments brought the whole audience to a standing ovation. All the speakers then came over to shake hands and take photos with him, as well as with the Cao Dai delegation.
Day 3 of the Summit ended up around 9:00pm in the evening.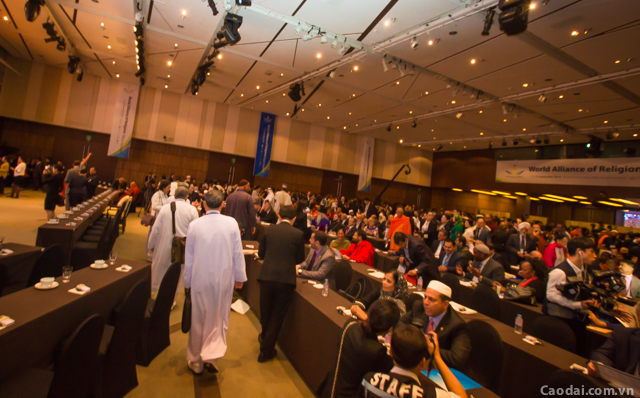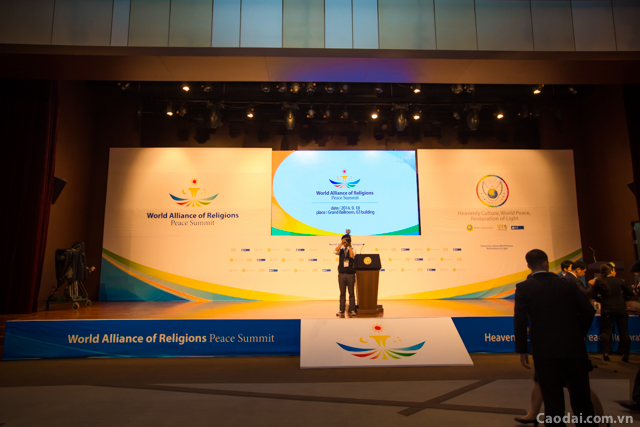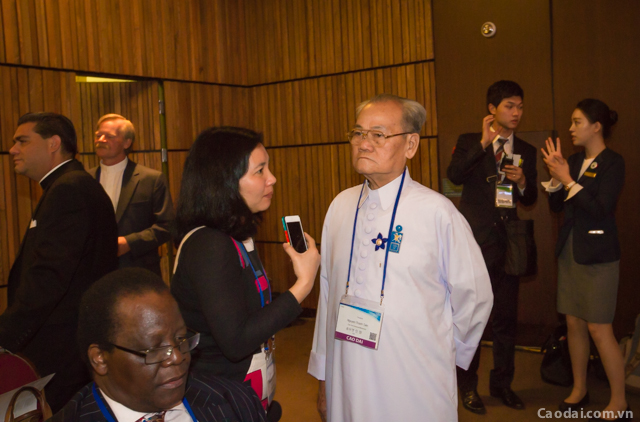 The Cardinal interviewed by TV Reporter of SBTN Australia