THE SACERDOTAL COUNCIL OF CAO ĐAI TAY NINH HOLY SEE JOINS THE WORLD ALLIANCE OF RELIGIONS FOR PEACE SUMMIT IN SEOUL, SOUTH KOREA (Day 2)
THE SACERDOTAL COUNCIL OF CAO ĐAI TAY NINH HOLY SEE JOINS THE WORLD ALLIANCE OF RELIGIONS FOR PEACE SUMMIT IN SEOUL, SOUTH KOREA (Day 2)
Updated 2014-09-25 21:48:55
(Reported from Seoul, South Korea on September 17th, 2014 by Archbishop Thai Con Thanh, Archbishop Ngoc Hong Thanh and Deacon Thuong Canh Thanh. Pictures taken by Nguyen Tri Luc- Translated by Tuan Em)
Day 2 - In Seoul, South Korea – Sept. 17th, 2014
At 2:00pm on September 17th, 2014, the Cao Đai delegates arrived at the Seoul Olympic Stadium to participate at the grand Opening Ceremony of the World Alliance of Religions for Peace Summit.
According to the estimate of the Organizing Committee, there were approximately 200.000 participants present in this Opening Ceremony.
The agenda of the Opening Ceremony was as follows:
3. The Pledge of Allegiance
4. Card-section Performance of World Peace
5. Introductory video of HWPL activities.
6. Opening address by H.E Man Hee Lee, Chairman of HWPL
7. Introductory video of IWPG activities (International Women Peace Group)
6. Address by Mrs. Nam Hee Kim, IWPG Chairwoman.
8. Introductory Video of IPYG activities (International Peace Youth Group)
9. Address by Mr. Du Hyun Kim, IYPG's Chairman
10. Addresses by ten political and religious leaders as follows:
· The Hon. Dr. Emil Constantinescu, Former President of Romania
· The Hon. Alexander Rutskoy, Former Vice President of Russia
· The Hon. Bertie Ahern, Former Chairman of the Taoisearch of Ireland
· The Hon. Stjepan Mesic, Former President of the Republic of Croatia
· H.E. Kgalema Petrus Motlanthe, Former President of the Republic of South Africa
· H.E.Cardinal Gaudencio B. Rosales, Archbishop Emeritus of the Manila Parish, Philippines
· H.E. Shawki Ibrahim Abdel Karim Allam, Grand Mufti of Egypt
· H.E Anastasios Nerantzis, Secretary General of Interparliamentary Assembly on Orthodoxy
· Mr. Singh Sahib Giani Gurbachan Singh Ji, Jathedar of the Akal Takht
· Mr. Rabbi Shmuley Boteach, American Orthodox Rabbi
Next, H.E. Man Hee Lee, Chairman of HWPL delivered a Message for Peace.
Then came the cultural performance titled "Peace of Arirang", which is a traditional Korean folk song designed as the Intangible Cultural Heritage of Humanity.
Finally, the drum performance, parade and fireworks ended the ceremony at 7:00pm.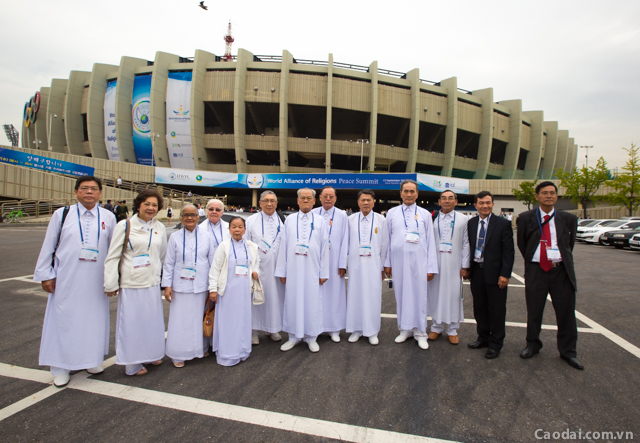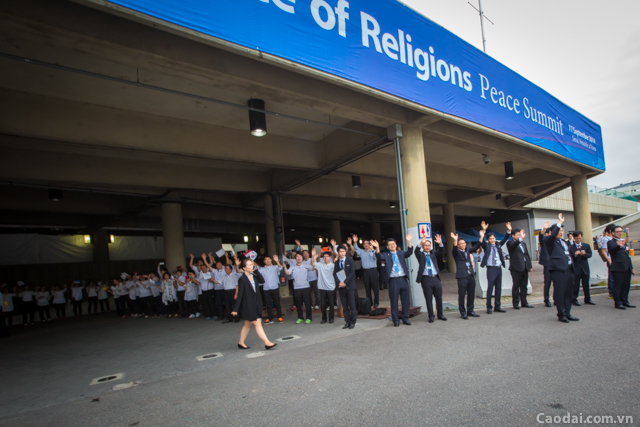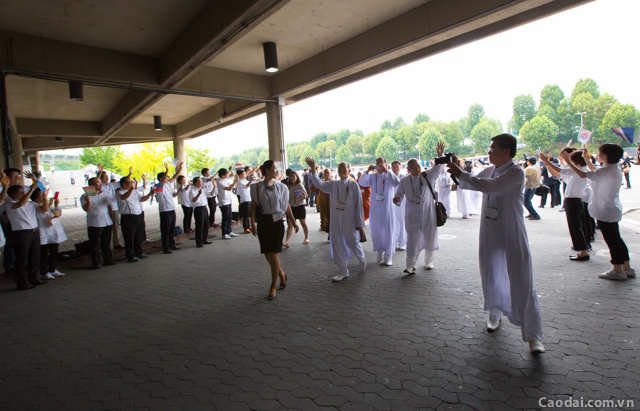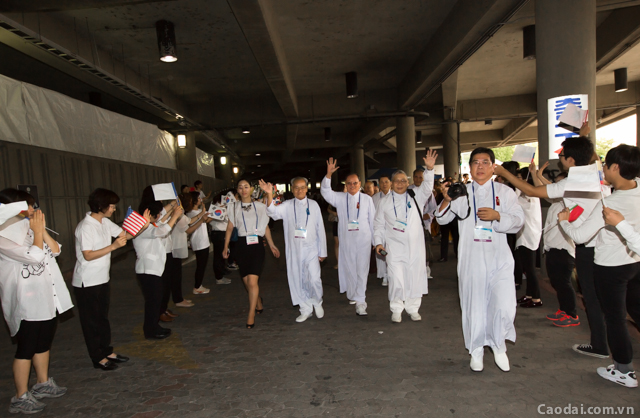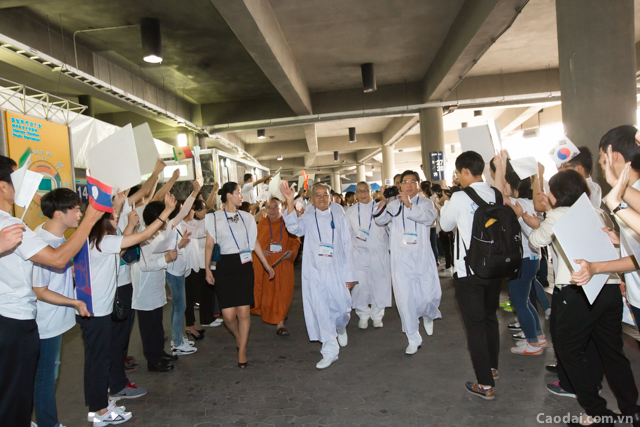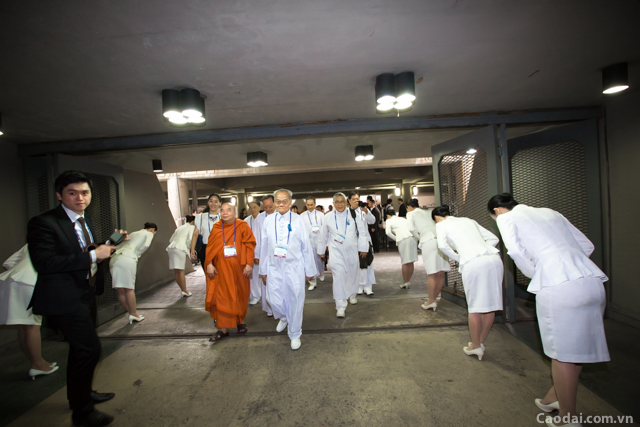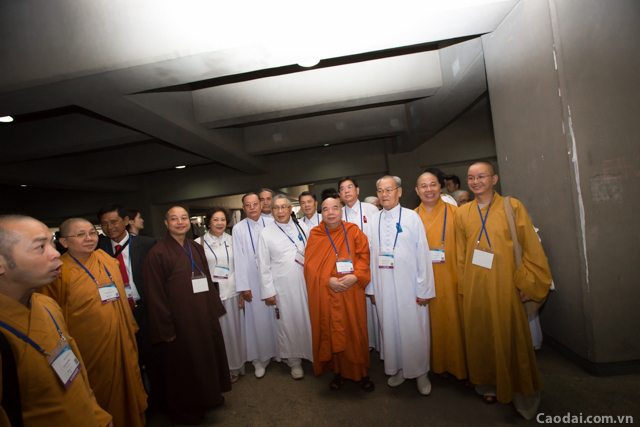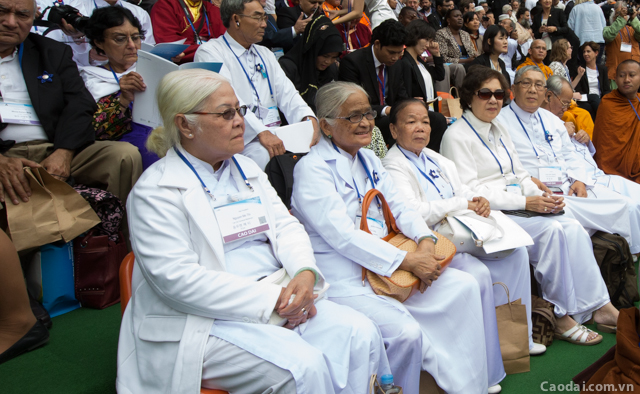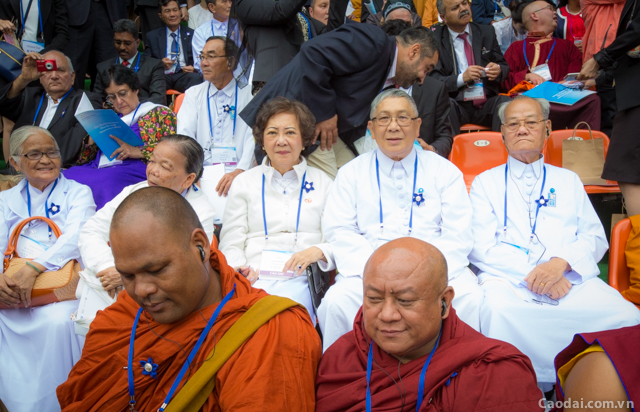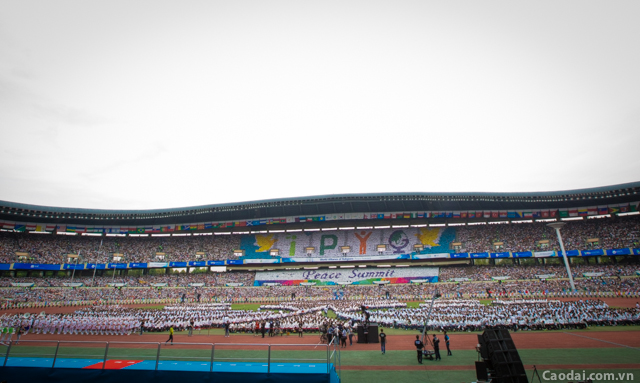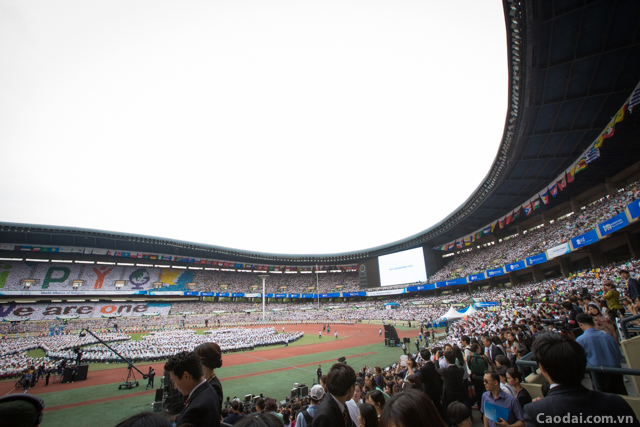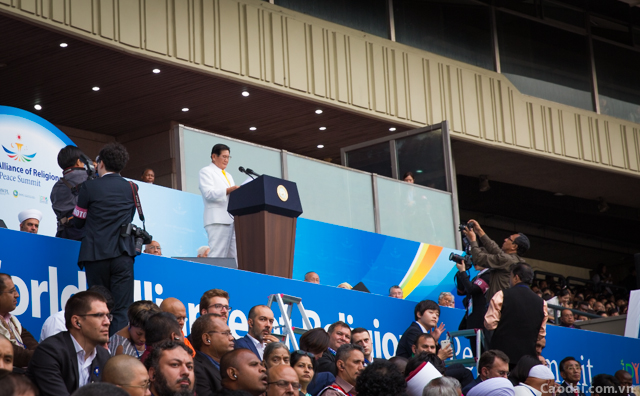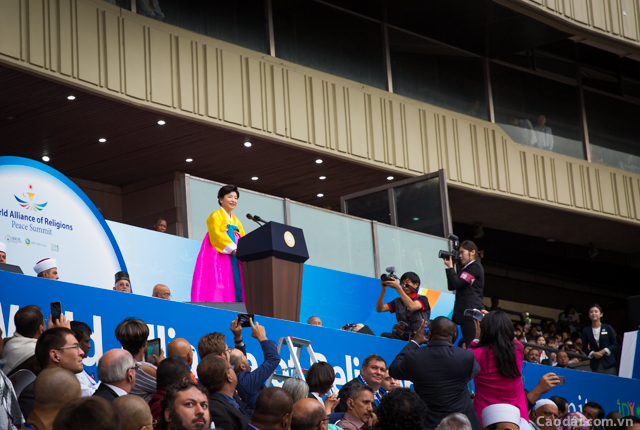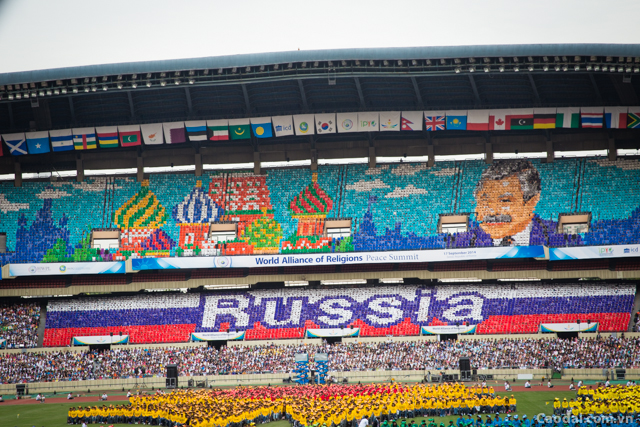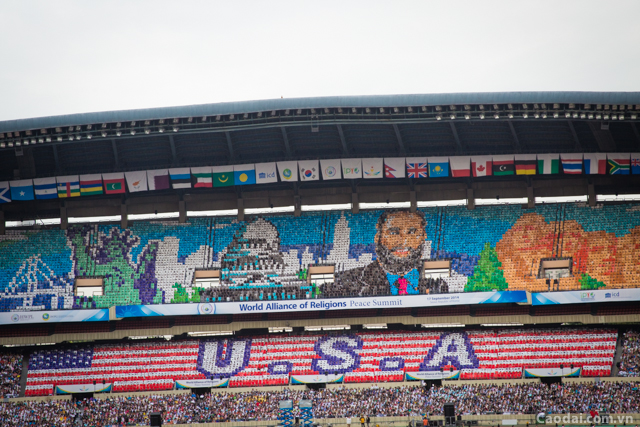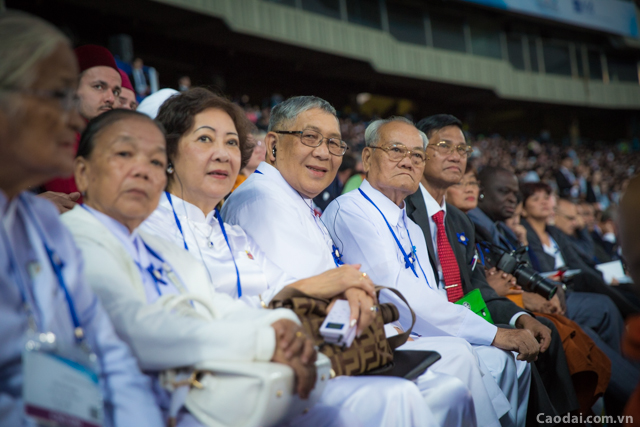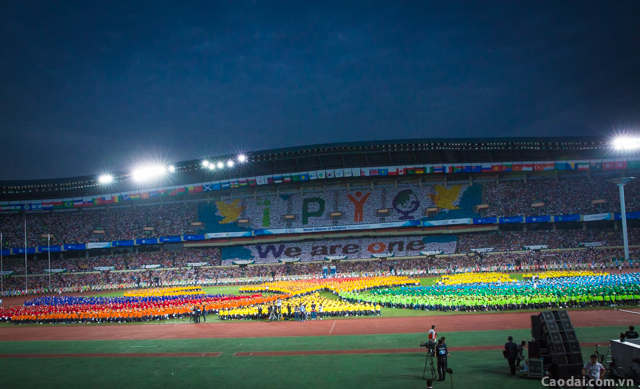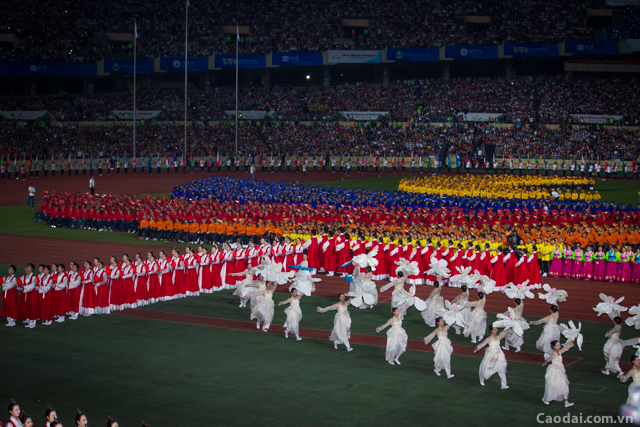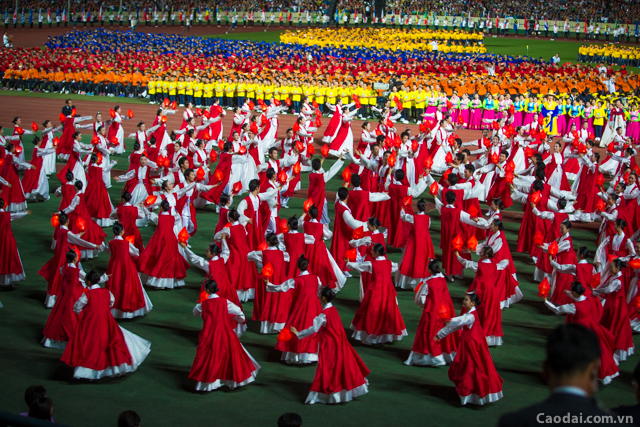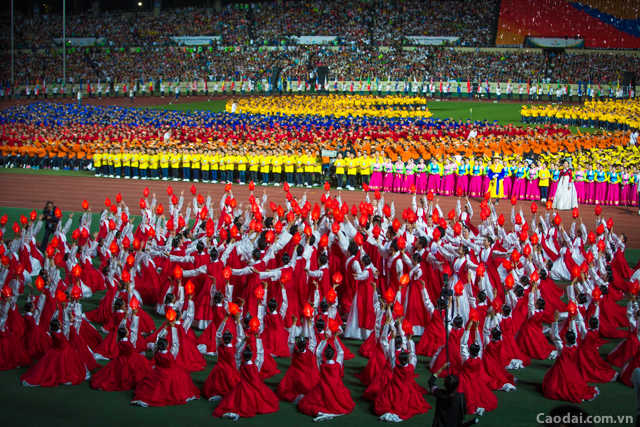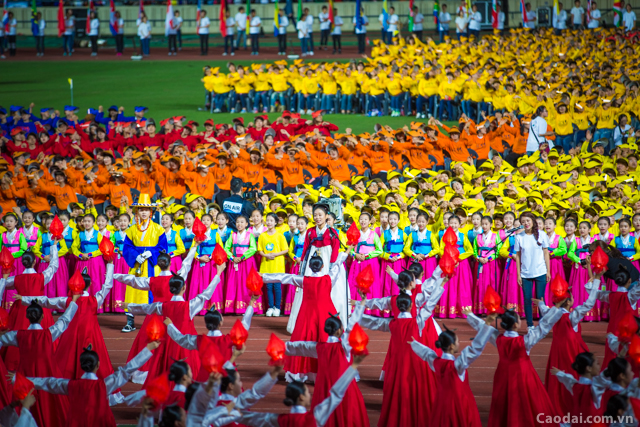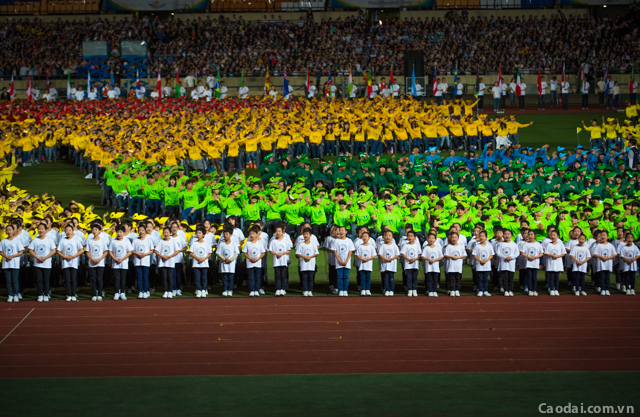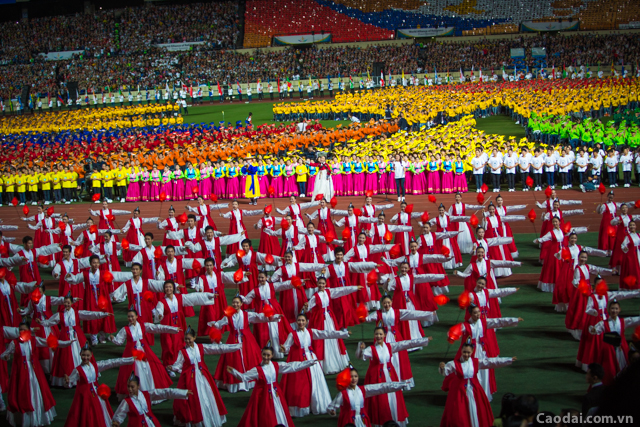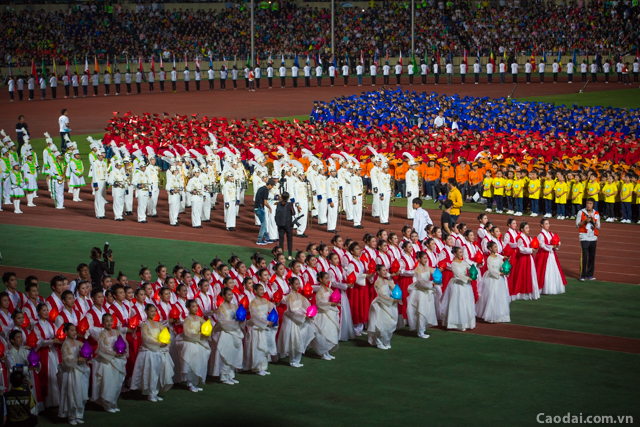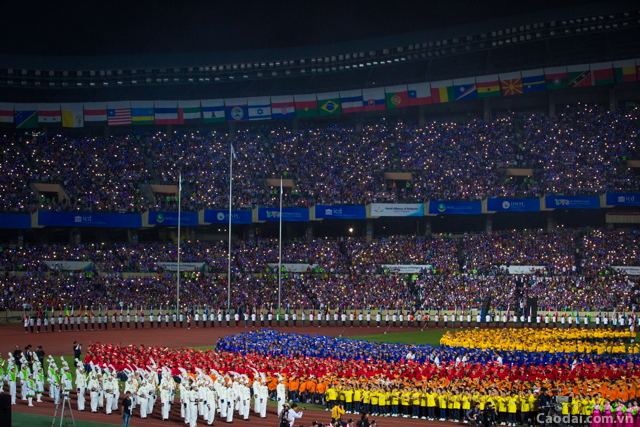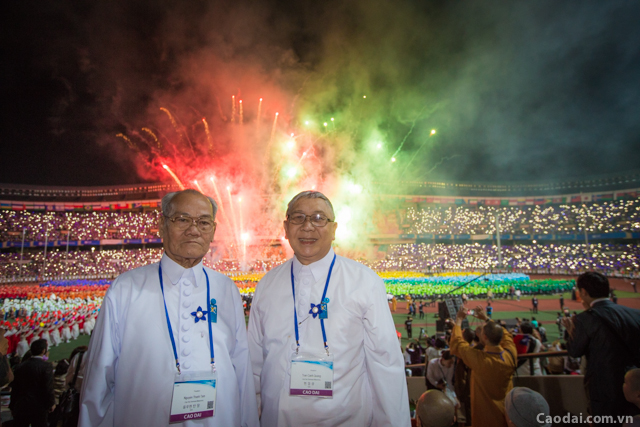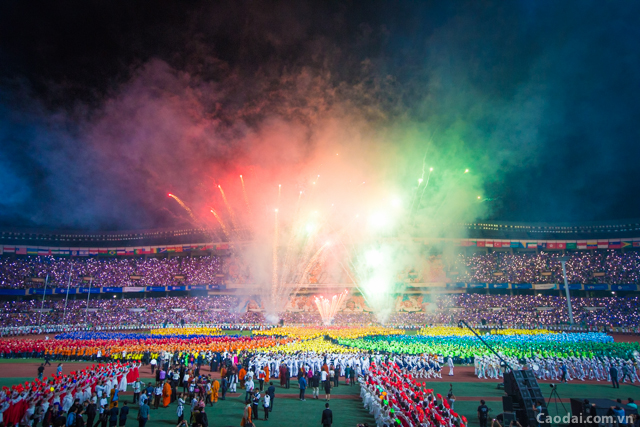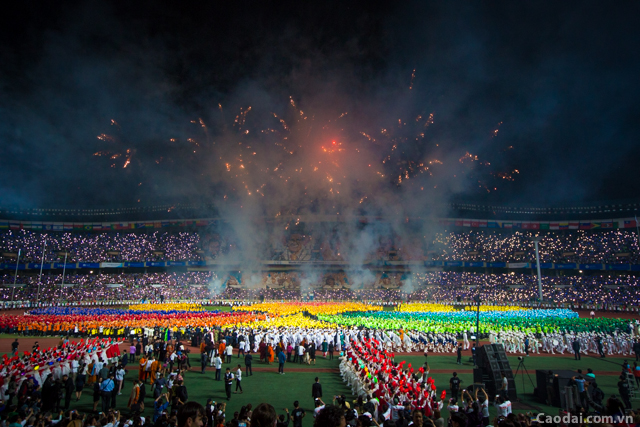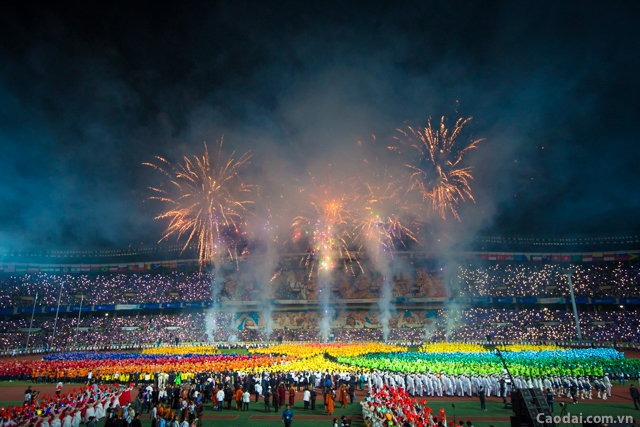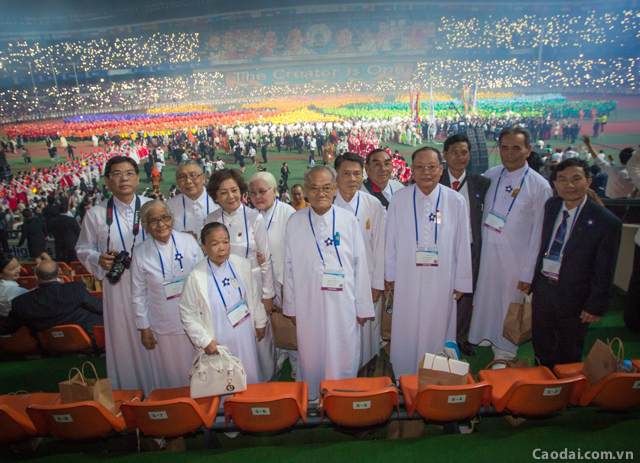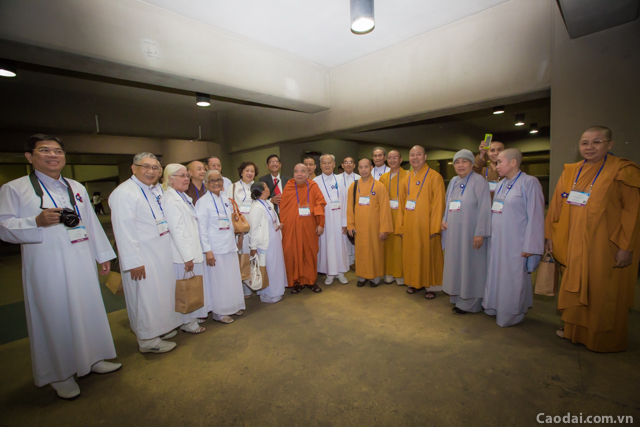 Cao Dai and Buddhist delegation together for a photo-op