SHOW ME MISSOURI BLUES: UNIVERSITY OF MISSOURI COLUMBIA HOSTS EVENT ON ASIAN NEW RELIGIONS
SHOW ME MISSOURI BLUES: UNIVERSITY OF MISSOURI COLUMBIA HOSTS EVENT ON ASIAN NEW RELIGIONS
Updated 2017-11-14 00:37:14
By MASSIMO INTROVIGNE – November 13, 2017
http://www.cesnur.org/2017/missouri.htm
In front of the Department of Religious Studies, Missouri University
(from left) : Jay Cha – Nguyen Tan Khoa – Massimo Introvigne – Rev Canh Tran – Signe Cohen – Lee Tae-Yeol – Lee Gyung Won – Joe Hobbs
(Second row from left) : Daniel Cohen – Prof xxx – Dennis Kelley – Rosita Soryte
I'll admit New York's great L.A. is real bait
There's only one place that's got me going gay
I got those blues show me, show me, show me, show Missouri Blues"
Julia Lee (1902–1958), Show Me Missouri Blues, 1946
What a good idea to go to Missouri during the Indian summer! We got ideal weather, beautiful colors, and a lot of history in our field trips, from the Westminster College in Fulton, where Winston Churchill (1874–1965) delivered in 1946 his famous speech introducing the expression "Iron Curtain," to the Amish villages of Missouri, which are less touristy but not less interesting than those in Pennsylvania. And Mizzou, the University of Missouri at Columbia, is a living museum in itself—not only for its beautiful Victorian buildings but for the memories and exhibit of cartoonist Mort Walker, who created the soldier Beetle Bailey, one of the heroes of my teenage years. I supplemented with a visit of St Louis and all that blues, and Hermann, the German village on the banks of Missouri River, and all that wine (not worse than the Californian in its white version and better in the dessert brands, although I didn't care for the red)–but this was after the academic events proper. Although, come to think of it, I should mention a visit to the Museum of Contemporary Religious Art within the Jesuit-managed Saint Louis University, a unique institution collecting cutting edge contemporary art with religious themes.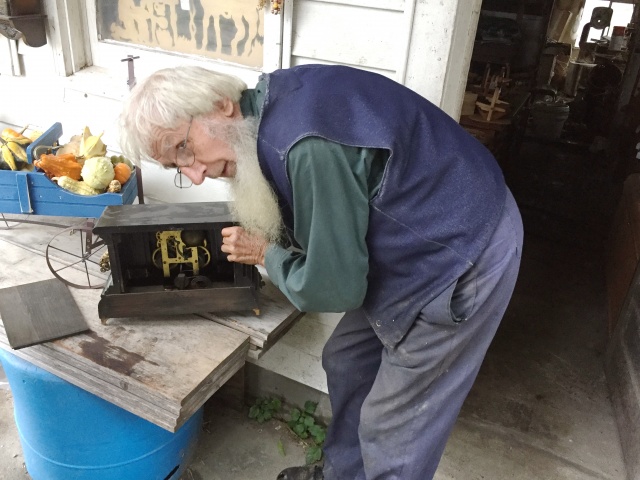 The Amish Handicraft Shop owner with his 100 year old clock (selling for $190)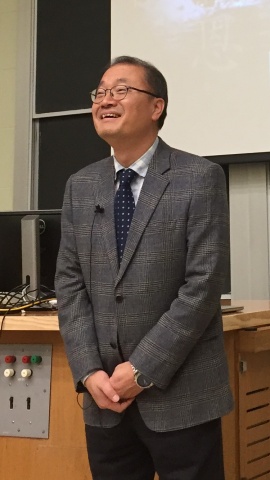 Prof. Lee Gyung-Won making presentation on Daesoon Jinrihoe
The events were in Columbia, bursting with expectancy for the football game of the local Tigers against Florida, although most expected Florida to win. As it is true for other large American universities, Mizzou has everything, and that includes a Department of Religious studies under the expert leadership of Signe Cohen, and even a Vietnam Institute, whose guiding light is Joe Hobbs. It is because of Vietnamese Studies that CESNUR was invited to the series of events entitled "New Asian Religions in a Globalized World" between November 1 and 3, 2017, including private meetings, presentations to faculty and students, and a public lecture. The specialists of Vietnam invited Cao Dai, a 5-million strong Vietnamese new religion, and Cao Dai in turn invited Daesoon Jinrihoe, a Korean new religion of comparable size, and CESNUR, which had the role of placing the two new Asian religions in a larger context. The Asian groups offered beautiful presentations by Cao Dai's Reverend Tran Canh and Daesoon Jinrihoe's Lee Gyung-Won and Jay Cha. Director Lee Tae-Yeol was also there for Daesoon Jinrihoe, together with Kim Dong-Wan, while Cao Dai brought Nguyen Tan Khoa from the New Orleans temple. Rosita Šorytė, a specialist of humanitarian aid and refugee issues, also participated, together with a strong and competent group of Missouri professors and emeriti.
Rev. Canh Tran (right) and Nguyen Tan Khoa from CAO DAI
(enjoying lunch at the MU Student Cafeteria)
Cao Dai, Daesoon Jinrihoe, and CESNUR were introduced to different audiences. In the public lecture, I tried to answer the question why Cao Dai and Daesoon Jinrihoe have both been phenomenally successful. My PowerPoint is now available on this Web site, but in short I believe Cao Dai was able to integrate not only local traditions and missionary Christianity (countless new religions did the same) but to add a third ingredient, Western Esotericism, which was brought to Vietnam by the French colonial elite. Daesoon Jinrihoe, with its core doctrine of "resolving grievances through mutual beneficence," offered reconciliation to a country badly in need of it, Korea, plagued by anomie and a record suicide rate, political contentiousness and corruption, and the North-South tensions.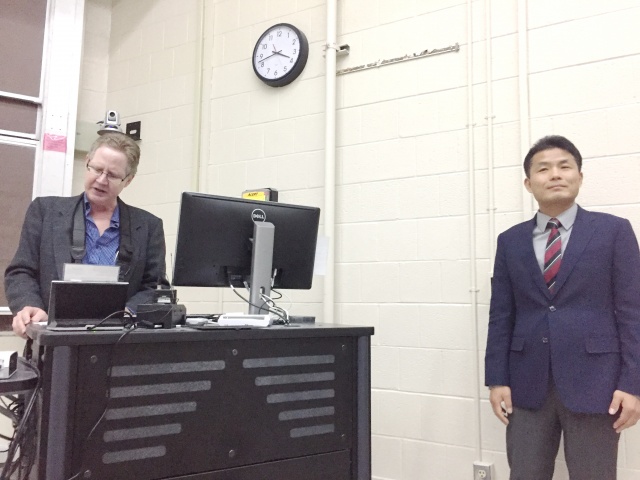 Dr. Joe Hobbs introducing Prof. Jay Cha of Daesoon Jinrihoe
Missourians are a very friendly lot. Every single waitress and taxi driver made us feel we were there as friends rather than clients. And the Mizzou faculty and students went the extra mile to make all of us feel at home. As they say, this brought them good luck. In the end, the Missouri Tigers unexpectedly defeated the Florida Gators 45–16. Perhaps they should invite us again.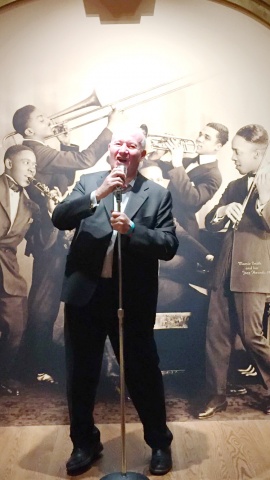 Massimo Introvigne performing at a St Louis Cafe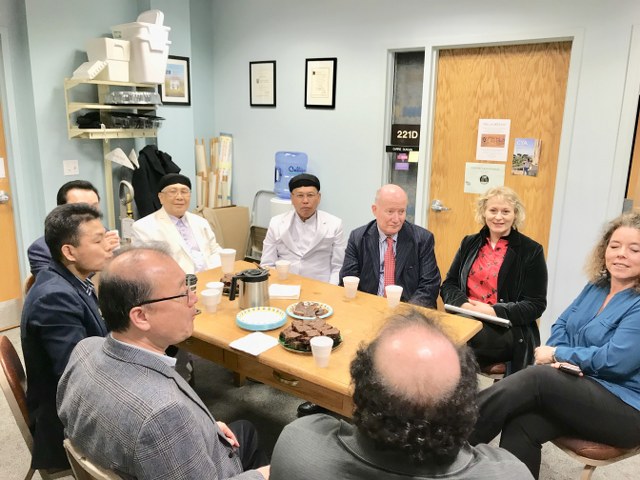 Meeting with Dr. Signe Cohen, Chair, Department of Religious Studies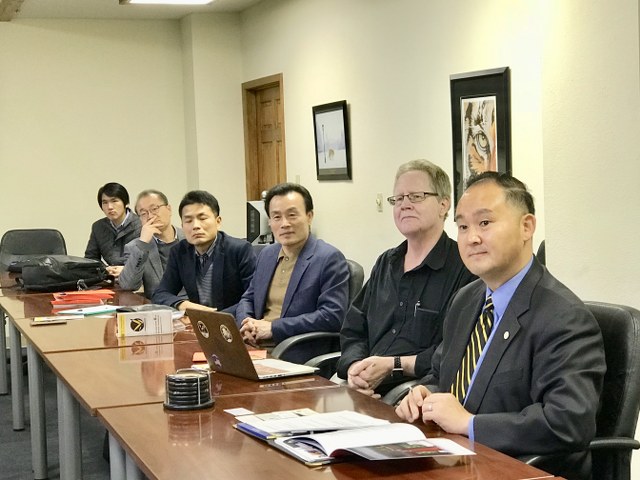 (from right) Sang Kim, Joe Hobbs, Lee Tae-Yeol, Jay Cha, Lee Gyung-Won, Kim Dong-Wan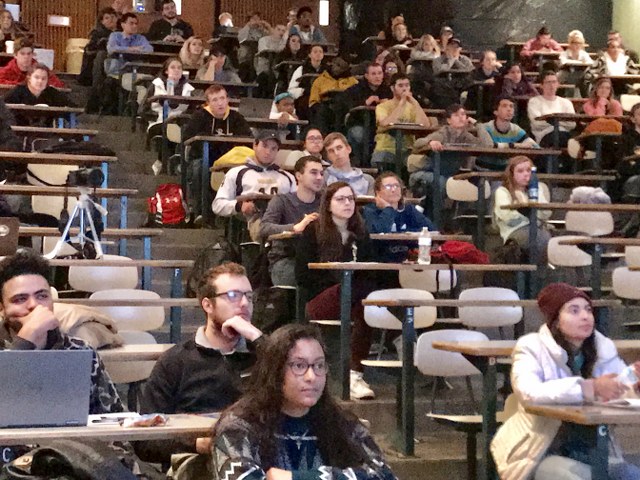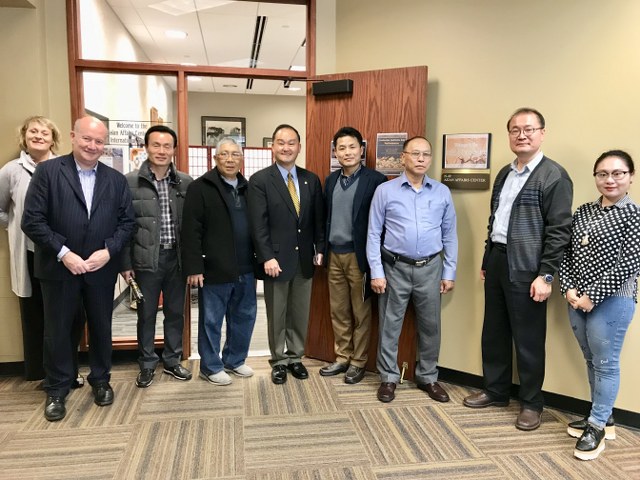 The 3 delegations at the Asian Affairs Center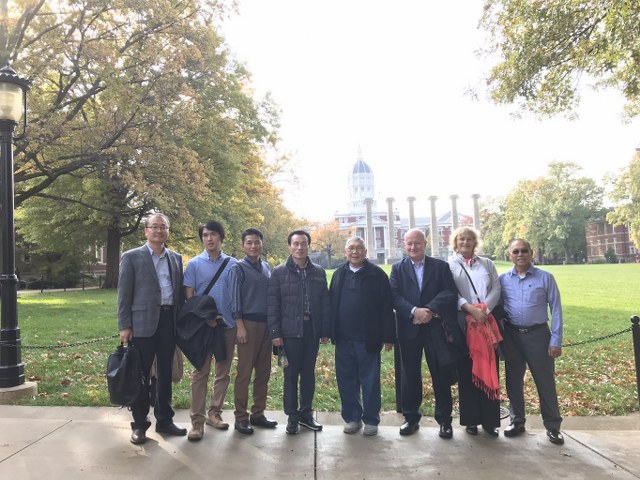 In front of the main gate of Missouri University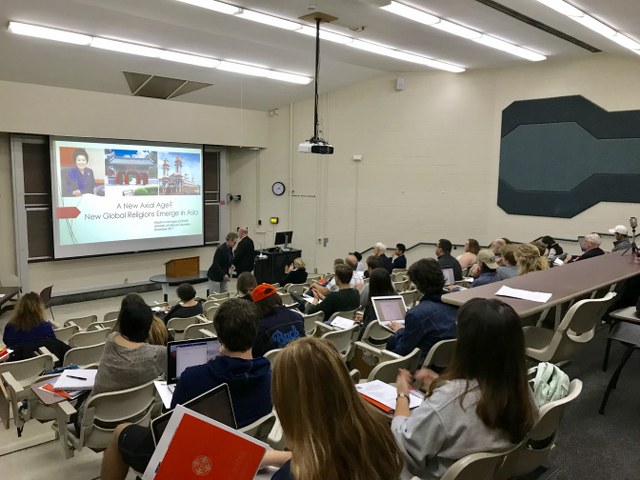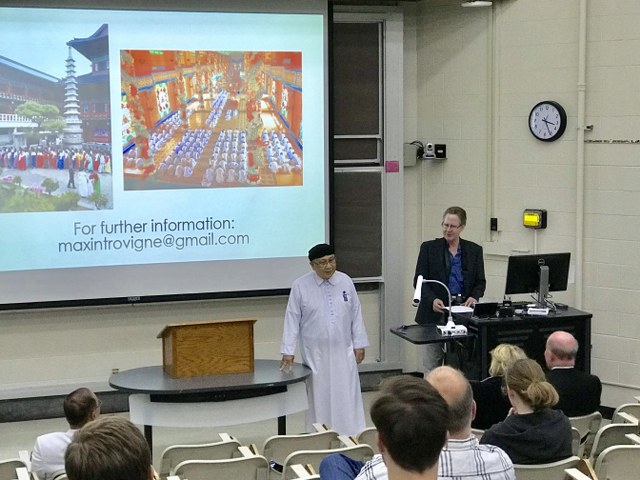 Dr. Joe Hobbs introducing Rev. Canh Tran of Cao Dai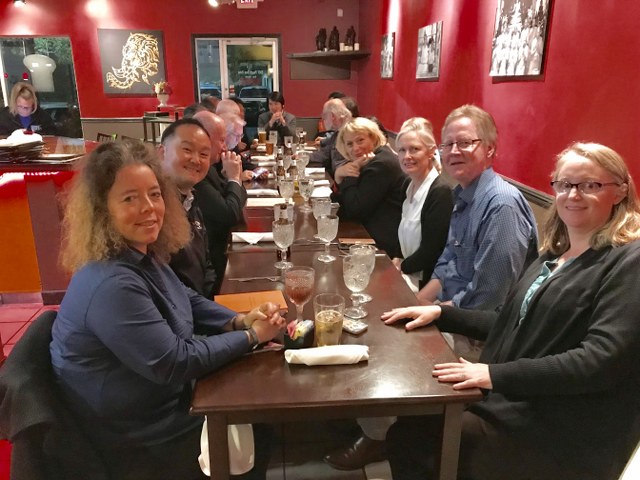 Farewell and Thank-you dinner
New York, November 13, 2017