INTERNATIONAL MEETING FOR SPIRITUAL REPRESENTATIVES AND OOMOTO SUMMER GRAND FESTIVAL IN KAMEOKA, KYOTO, JAPAN- AUGUST 2017.
INTERNATIONAL MEETING FOR SPIRITUAL REPRESENTATIVES AND OOMOTO SUMMER GRAND FESTIVAL IN KAMEOKA, KYOTO, JAPAN- AUGUST 2017.
Updated 2017-09-09 23:00:14
(Kameoka, Japan – Reported by CaoDai Tivi – Aug 15, 2017)
On the occasion of His Holiness Onisaburo Deguchi's birthday, Co-Founder of Oomoto Religion and Oomoto Miroku Grand Summer Festival, Jinrui Aizenkai (known by its English name, Universal Love and Brotherhood Association or ULBA) hosted an International Meeting for Spritiual Representatives – Towards the Great Assembly of All Saints, between August 5th and August 7th, 2017 at Oomoto Headquarters in Kameoka, Kyoto, Japan. In parallel to this meeting, a Shinto ceremony (Zuisei Taisai) was also conducted as well as the Oomoto Poetry Festival, offering a prayer for world peace.
This Meeting was held in order to reaffirm the ideologies of Jinrui-Banrui-Aizenkai and Bankyo-Dokon deepening the friendship and longing for peace and happiness of all humankind on earth. Also, this International Meeting would be a prior meeting for the second International meeting in Thailand planned to be opened in December 2017 at Chulalongkorn, Bangkok.
Upon receiving the invitation of Mr. Yasuhiko Inagaki, Chairman of the board of directors, NPO Jinrui Aizenkai Internatioal, Oomoto Religion, Reverend Thuong Canh Thanh, President of Caodai Overseas Missionary, together with his assistants Nguyen Tuan Em and Le Quoc Cuong from CaoDai Tivi, attended the meeting.
There were approximately 200 participants in this event, including 38 international guests representing 11 organisations and religions from 10 different countries such as Cao Đai Religion in Vietnam, Tao Yuan in Taiwan, Won Buddhism in South Korea, Islam from Syria and other ULBAs in Mongolia, Brazil, Nepal, Sri Lanka, Philippines and Thailand.
In his greeting speech, on behalf of Her Highness Oomoto Spiritual Leader Kurenai Deguchi, Rev. Eiichi Suzuki, President of ULBA and Chief Director of Oomoto emphasized, "We are children of God and children from God, we must abolish all kinds of great barriers, tangible and intangible, throughout the world…In order to remove these barriers, we must first begin by eliminating the tangible barrier. This explains the importance of mutual understanding between religious groups to realize world peace. The sources of these barriers come from egoism and selfishness".
He further emphasized that we would endeavour to work for the realisation of Miroku-no-yo (new age) so all sentient beings on this planet can live in harmony and eternal happiness.
Reperentatives from the faith institutions and groups also made presentations in the meeting, universally agreeing that Humanity is facing serious problems of strife between religions and races, wealth disparity, deterioration of natural environment and natural disasters, scramble for resources, epidemic diseases, terrorism and nuclear proliferation. In order to solve these problems, Humanity should share the universal love and the idea that all religions spring from the same source, to create eternal world peace.
In his presentation, Rev. Thuong Canh Thanh agreed with the goal and objective of the meeting, which is to reaffirm the ideology of Brotherhood (Jinrui-Banrui-Aizen) and Bankyo-Dokon, longing for Peace and Happiness of all humankind on Earth, cooperating with all religions to achieve eternal peace.
Dr. Phichai Tovivich, Secretary General, Office of the World Peace Envoy and President of Sam Nak Poo Sawan Fellows Society, deeply sympathized with the idea of "Universal Love" and "All religions spring from the same source," and proposed the International Network of Jinrui Aizenkai (IRUHA) to spread Onisaburo's ideas. He asked all participants to stand up for a silent minute for those victims of wars and natural disasters. He also called for tighter cooperations between religions and organisations for a more peaceful world, not for the present but for future generations as well.
Then, the Keynote Speaker, His Excellency Samir Issa Ibrahim Naouri, the Former Ambassador of Jordan talked about mission and role of Japanese for the peace of the Middle East. He suggested the possibility of Japanese tradition and spirituality may contribute to the peace of the Middle East. He emphasized that "though there are different races, skin colours, languages, cultures and religions, humanity could enjoy eternal peace if universal love is the core solution of all disputes". He wished that Oomoto could further cooperate with other religions to create world peace.
Participants then were invited to attend the Shinto Ceremony (Zuisei Taisai) and the Oomoto Poetry Festival in the Bansho-den Shrine and the Oomoto Miroku Grand Summer Festival in Kameoka.
Also, the Cao Đai delegation had a brief meeting with Her Highness Oomoto Spiritual Leader, Madam Kurenai Deguchi and respectfully handed Her a present from His Eminence Cardinal Thuong Tam Thanh, Chairman of the Sarcedotal Council of Tay Ninh Cao Đai Holy See in Vietnam. Her Highness extended her thanks for the present and wished the Cardinal good health.
The Cao Đai delegation also met with and introduced Cao Đai Religion to other religious representatives and called for closer cooperation between all religions. Other religious reprentatives from Korea, Mongolia, Nepal, Brazil and other countries expressed their wish to pay an official visit to Vietnam and Tay Ninh Cao Đai Holy See and wish to receive Cao Đai Representatives in their countries in the near future.
Please see herewith some photos of the above events and click this link to see the video
http://caodai.com.vn/vn/gallerydetail/cdtv-55-hoi-nghi-quoc-te-va-le-hoi-mua-he-miroku-cua-oomoto-giao-kyoto-nhat-ban-thang-8-2017.html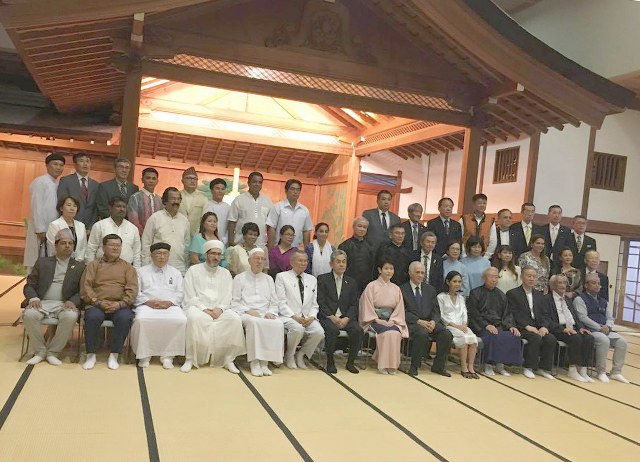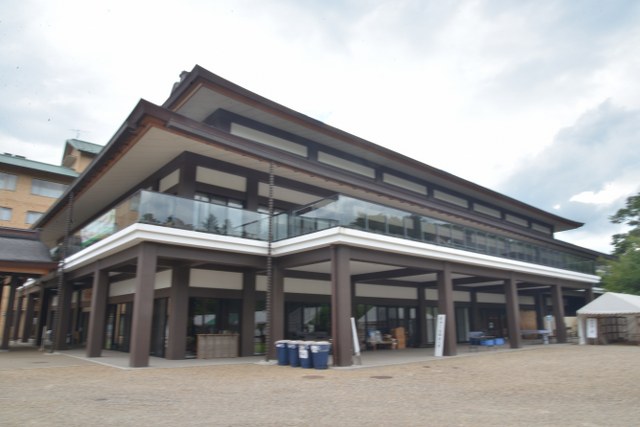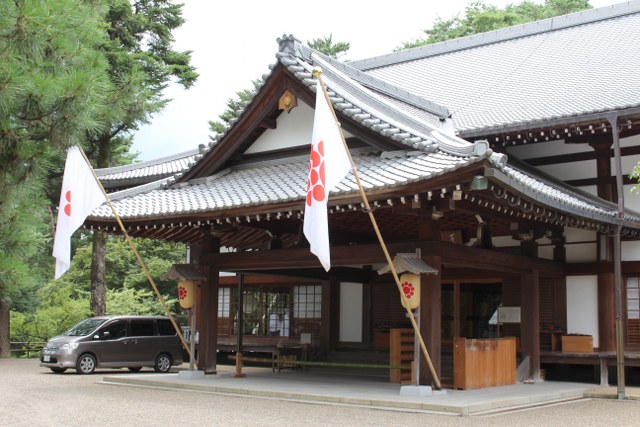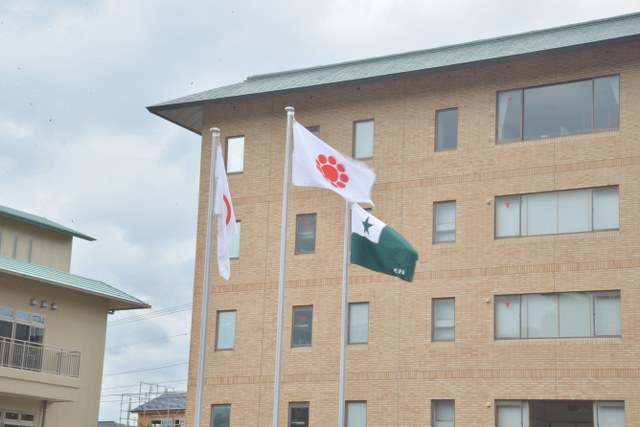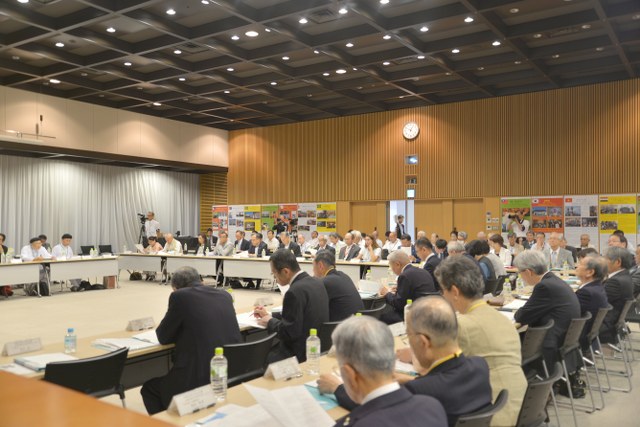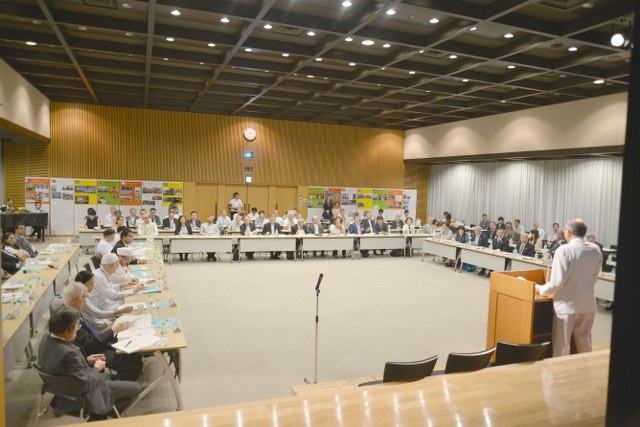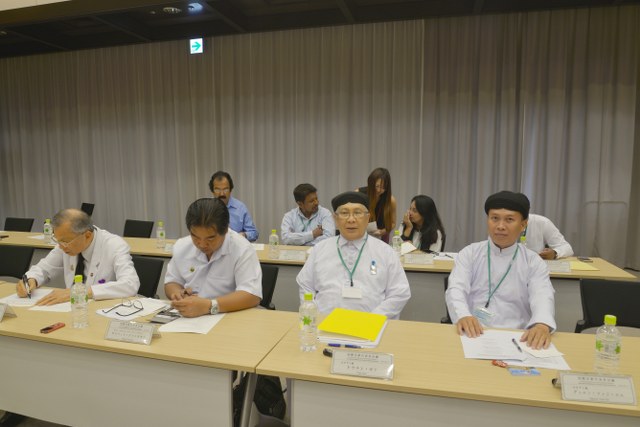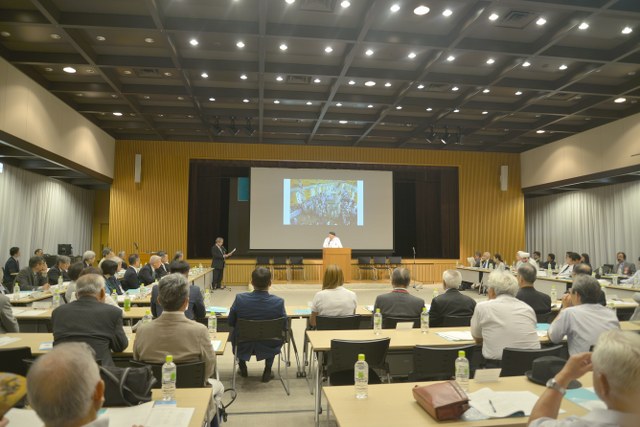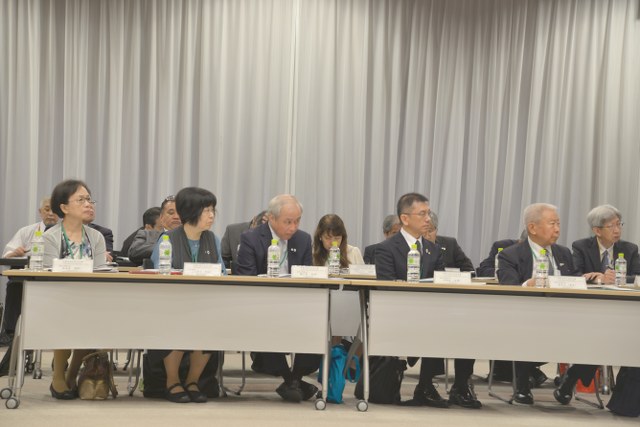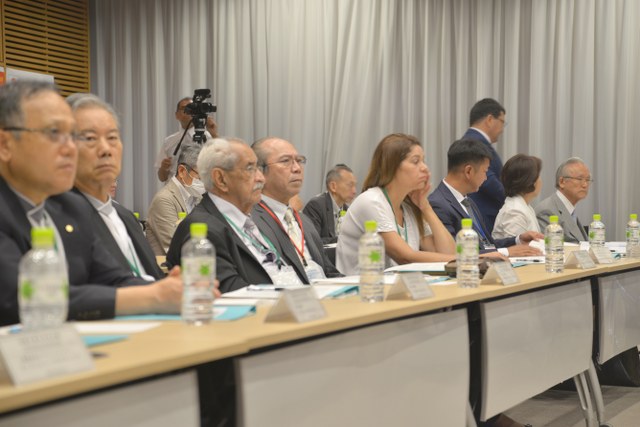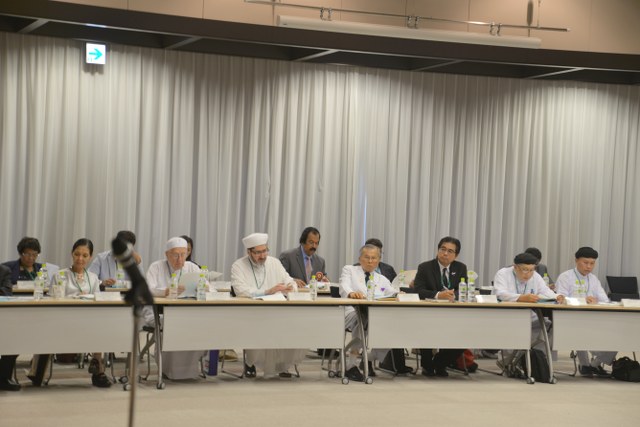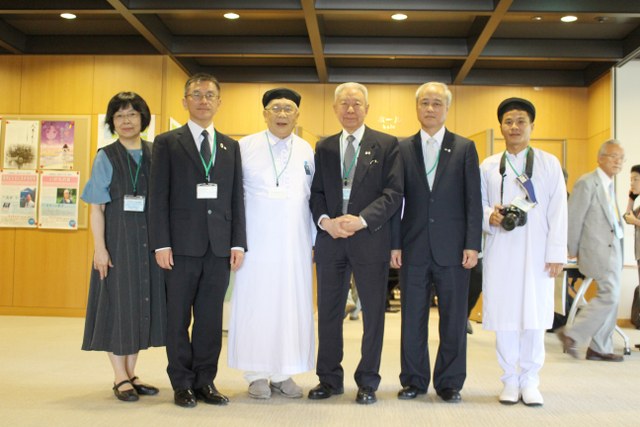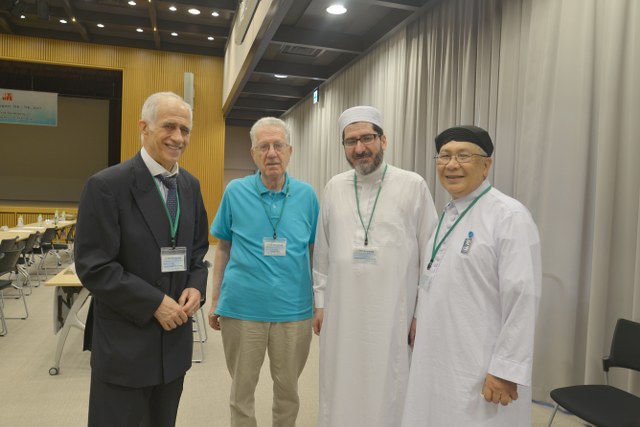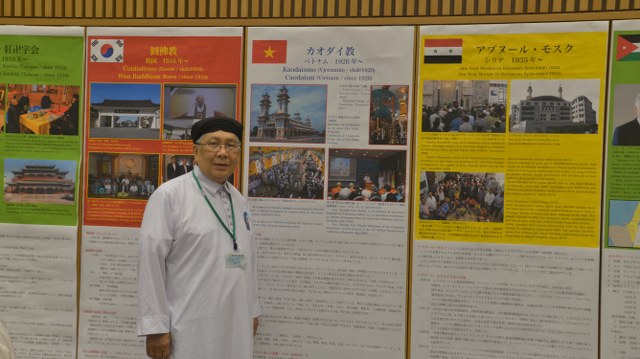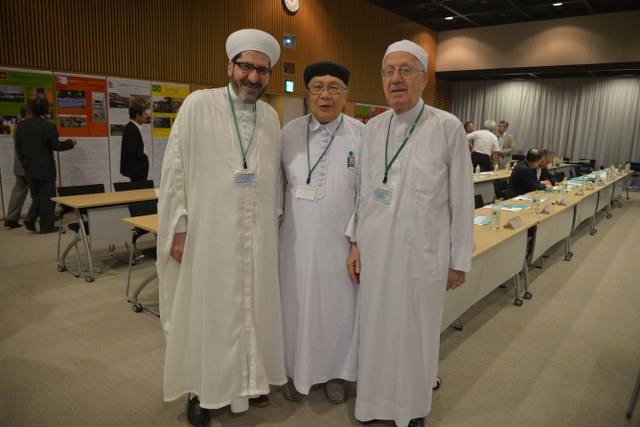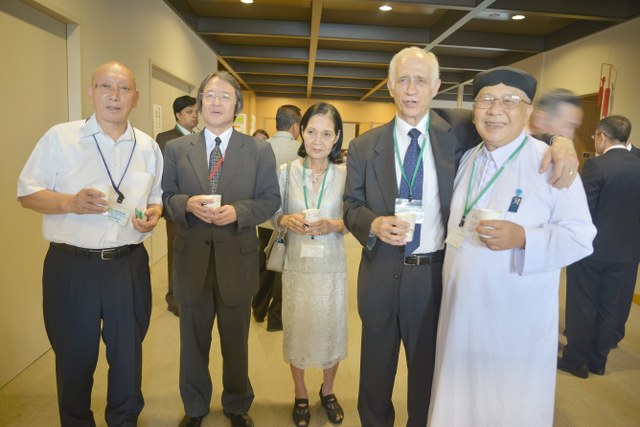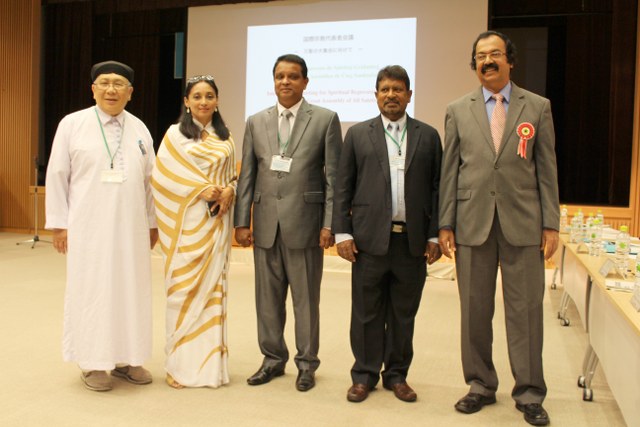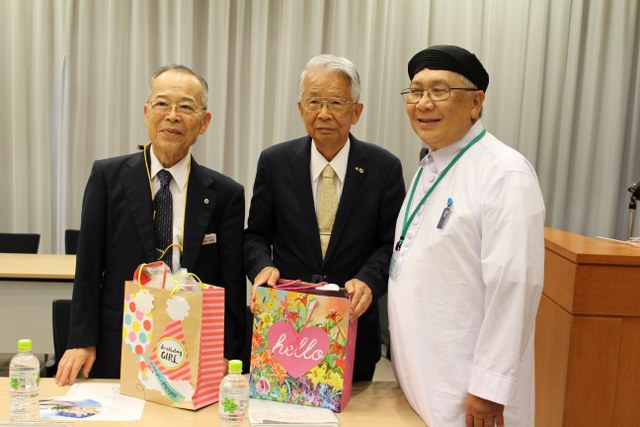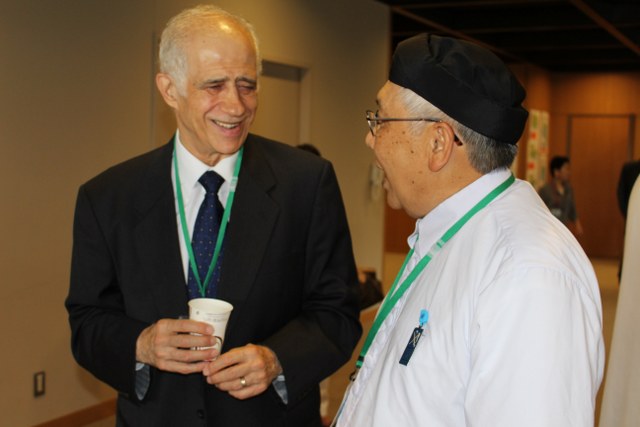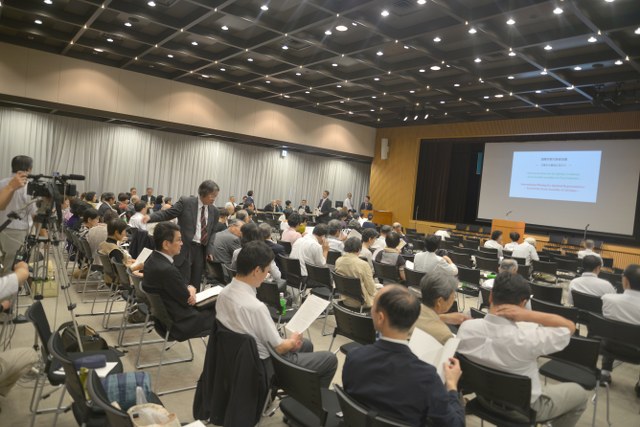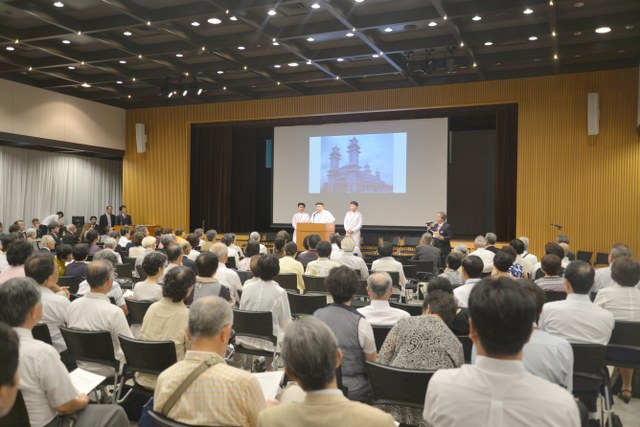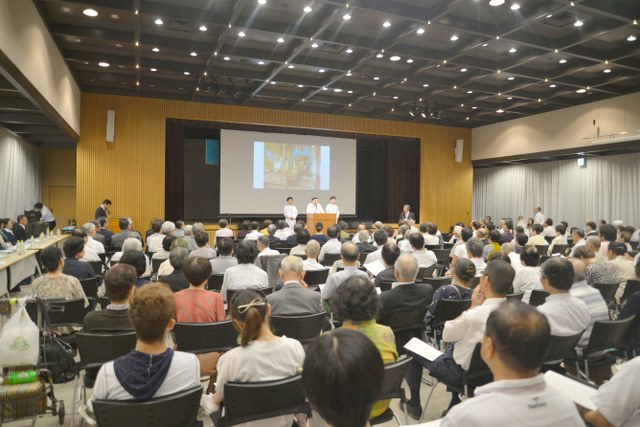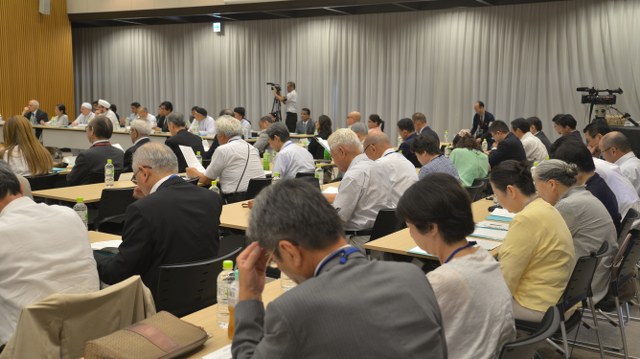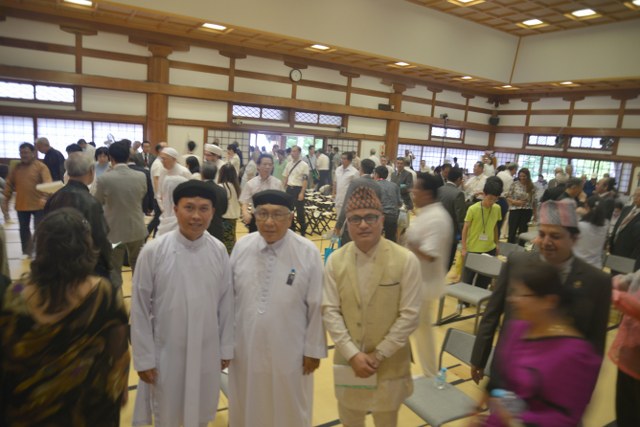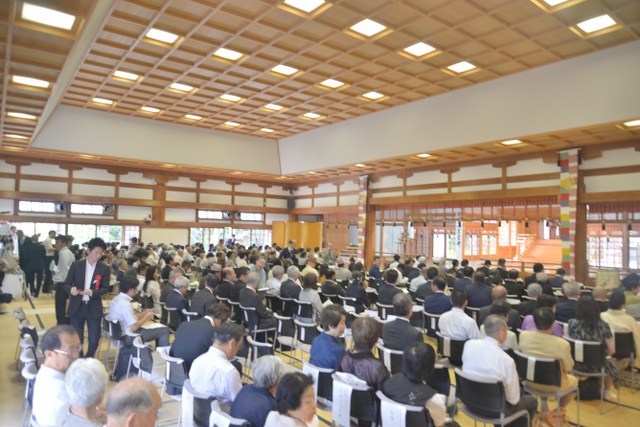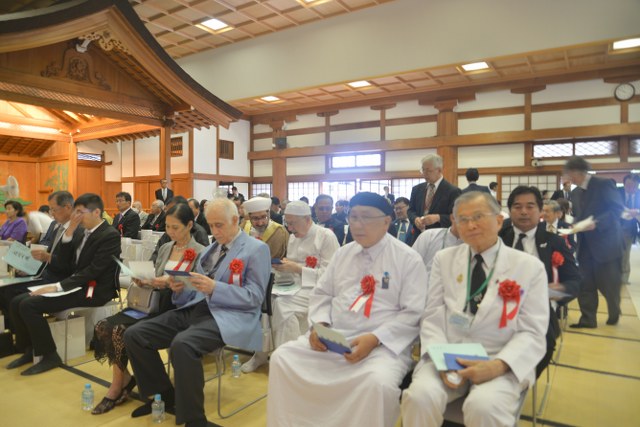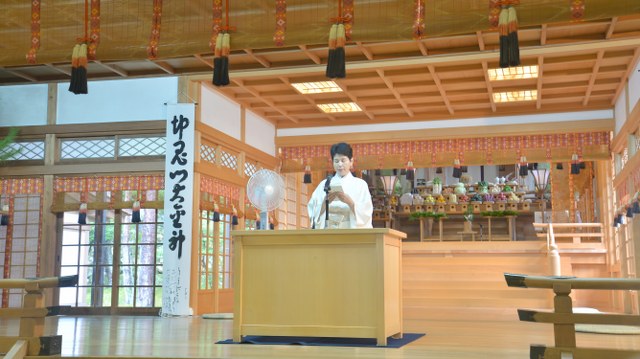 Her Highness Madam KURENAI DEGUCHI, Oomoto Spiritual Leader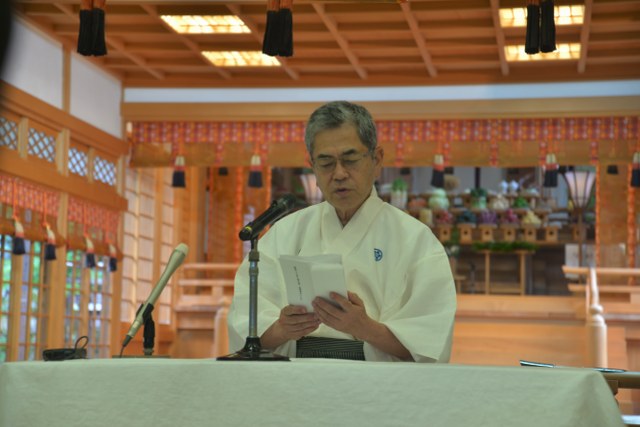 His Excellency Rev. EIICHI SUZUKI, Chief Director, Oomoto Headquarters