CAO DAI ATTENDED THE INTERNATIONAL INTERFAITH CONFERENCE IN YEOJU CITY, KOREA - YEOJU ECO FORUM -
CAO DAI ATTENDED THE INTERNATIONAL INTERFAITH CONFERENCE IN YEOJU CITY, KOREA - YEOJU ECO FORUM -
Updated 2019-10-11 20:04:41
(Seoul, Korea, October 6, 2019 - Reported by Caodai TV members: Huu Loi, Le Den, Le Cuong and Nguyen Hoang)
Following the invitation of Mr. Jay Cha, Organizational Committee General Manager of the Interfaith Dialogue for an Ecological Civilization - Yeoju Eco Forum, held from October 3 to 5, 2019 in Yeoju City, South Korea, Rev. Canh Tran, President of Cao Dai Overseas Missionary, led an 8-member Caodai delegation (Deaconess Huong Thoan, Tran Huu Loi, Nguyen Van Hoang, Le Quoc Cuong, Ngo Thanh Nam, Le Xuan Den, Nguyen Van An and Ta Quoc Quy) to South Korea from October 2 to Oct. 6, 2019.
The Conference had about 200 participants, including about 80 religious leaders, professors and scholars from countries such as the United States, Australia, Japan, Korea, Taiwan, China, Hong Kong, Philippines, Bangladesh, India and Vietnam.
According to the Conference program (see the program below), on the first day of October 3, 2019, there were the following key speakers:
Dr. John B. Cobb, Co-Chair of Yeoju Eco Forum Committee
Mr. Yun Eun-Do, President of Daesoon Jinrihoe and Chairman of Yeoju Eco Forum Committee
Mr. Lee Hang-Jin, Mayor of Yeoju City
Dr. Audrey E. Kitagawa, Chair, Board of Trustees, Parliament of the World's Religions
Mr. Choung Byoung-Gug, Member of National Assembly
Mr. Yoo Pil-Seon, Chairman of Yeoju City Council
Mr. Lee Myeon-Jae, President of Daejin University
Wang Zhihe, Director of Institute for Postmodern Development of China
Monday, October 4, 2019 is a day for religious leaders to speak, including:
Fr. Kurian Kachappilly, President, Dharmaram Catholic University Vidya Kshetram, India
Prof. Richard Rose, Chair, Religion and Philosophy Department, University of LaVerne, California
Rev. Lee Dong-Soon, Minister of Cheonsong Church, South Korea
Rev. Perry Hamalis, Minister of Orthodox Christianity, Korea
Rev Shrivatsa Goswami, representing Acharya Sri Radaharamana Mandir Temple, India
Rev. Mat McDermott, Director of the Hindu American Foundation, USA
Rev. Chang Fiona, Director of the Center for Religious Affairs of Weixin Shengjiao, Taiwan.
The third day was the closing day, announcing the Yeoju Eco Forum Statement. Then the Conference attendees took a cultural tour, visiting the mausoleum of King Sejong (the fourth King of the Korean Joseon era, reigned from 1418 to 1450), Daesoon Jinrihoe Holy Temple, and its religious nursing home.
During the three days of the Conference, there were 56 presentations on ecological and environmental issues, divided into 14 sessions.
Intersperse between the Plenary sessions and Conference meetings, there were cultural and traditional performances of countries such as Korea, Taiwan, China and Vietnam. The youths in the Cao Dai Delegation contributed a performance of traditional Vietnamese music and Cao Dai ritual music, especially it was warmly applauded by the performance of a traditional Korean song, the Arirang.
Here are some pictures of the Conference:
CONFERENCE PROGRAM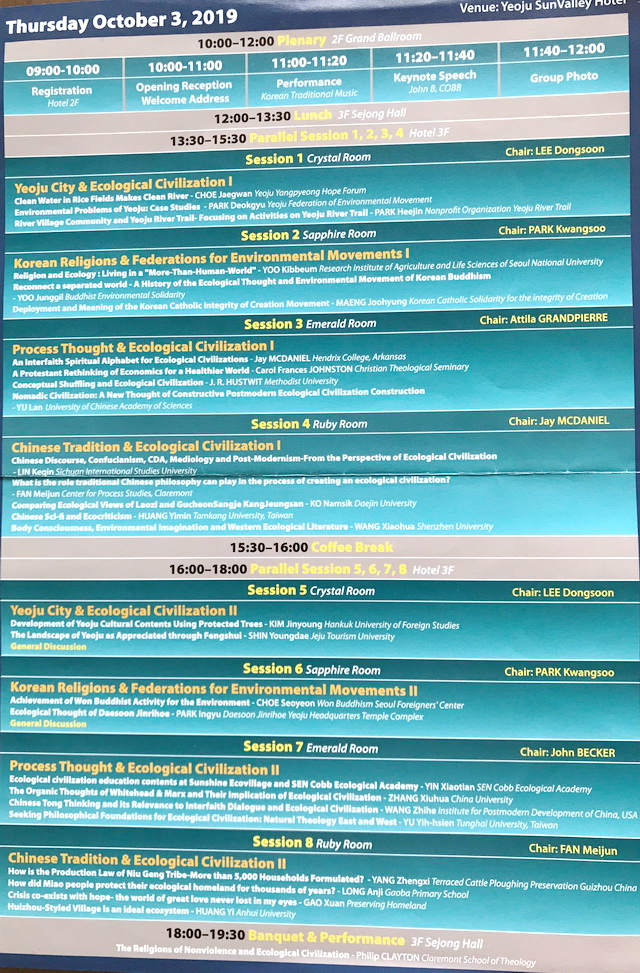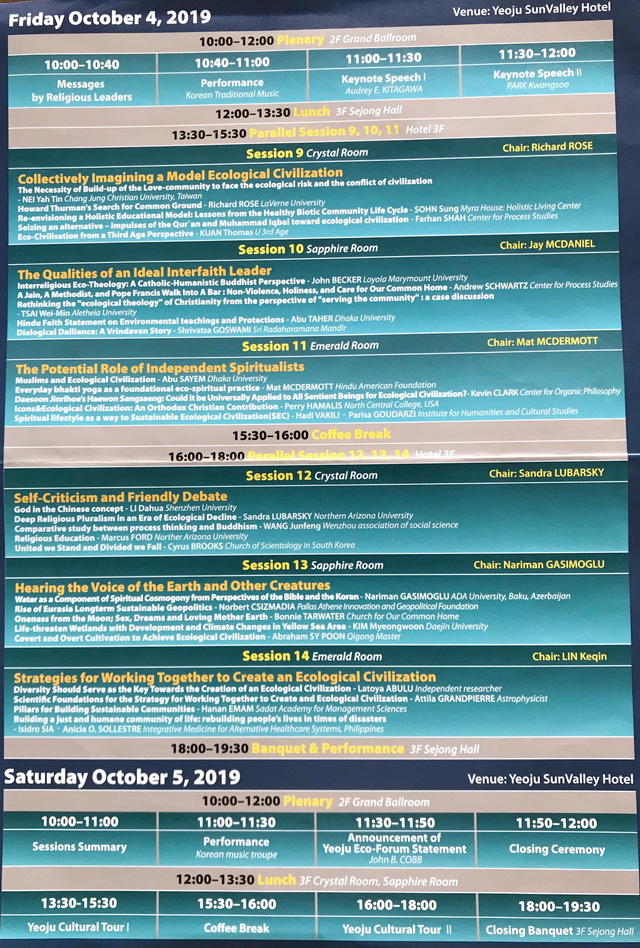 DAY 1 - THURSDAY OCTOBER 3rd, 2019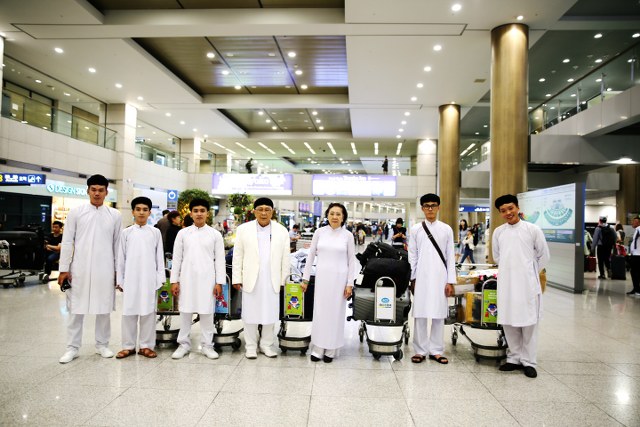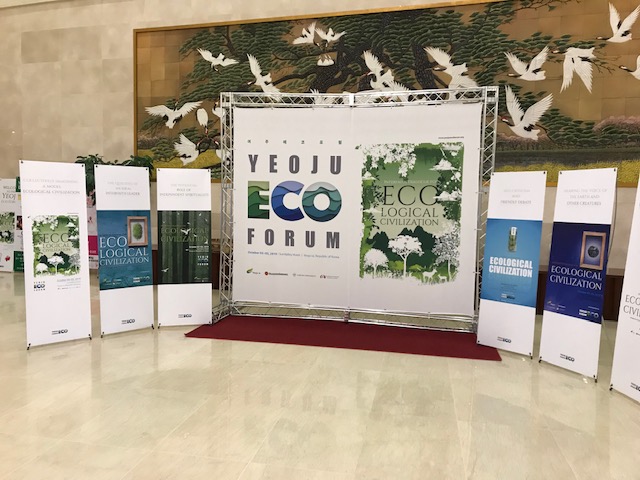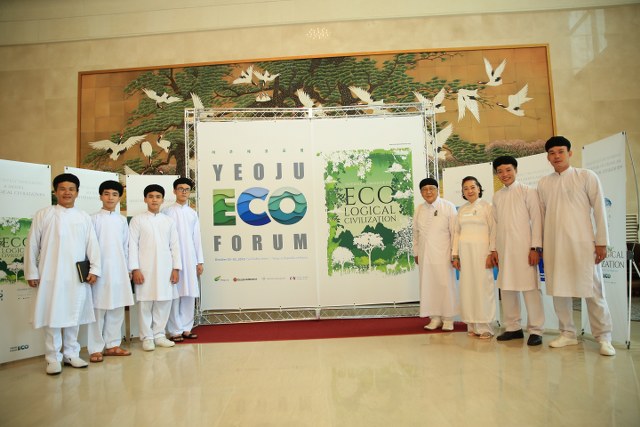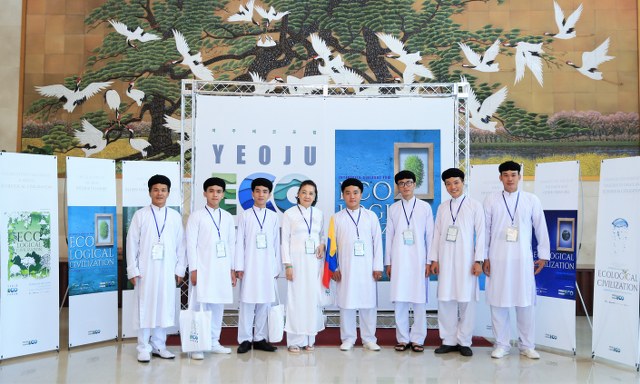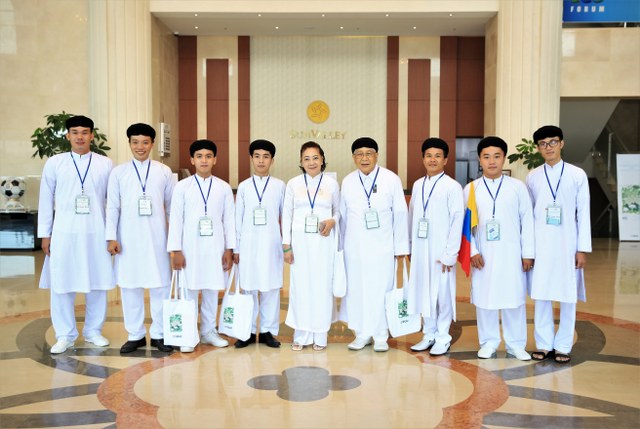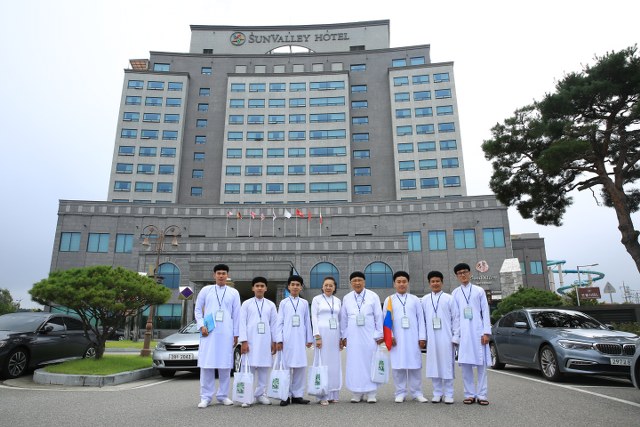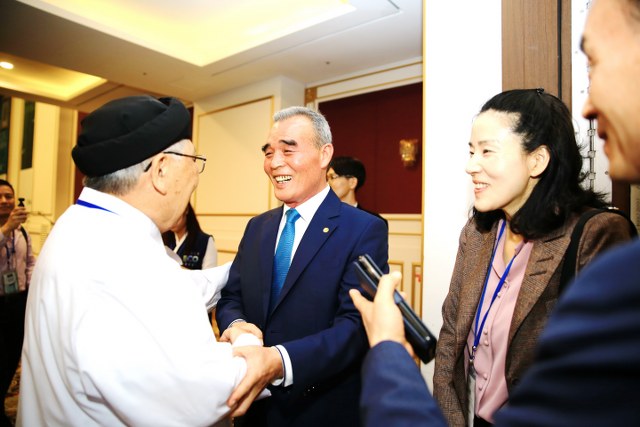 REV. CANH TRAN AND PRESIDENT YUN EUN-DO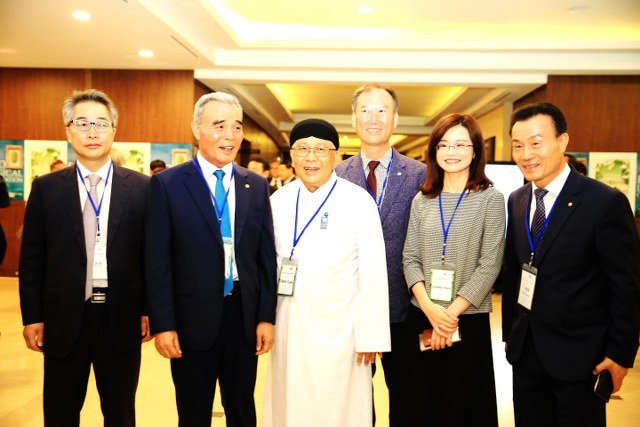 (from right) Dr. Lee Tae-Yeol, Dr. Fiona Chang, Dr. Wook Kim, Rev. Canh Tran,
President Yun Eun-Do, Dr. Bae Kyuhan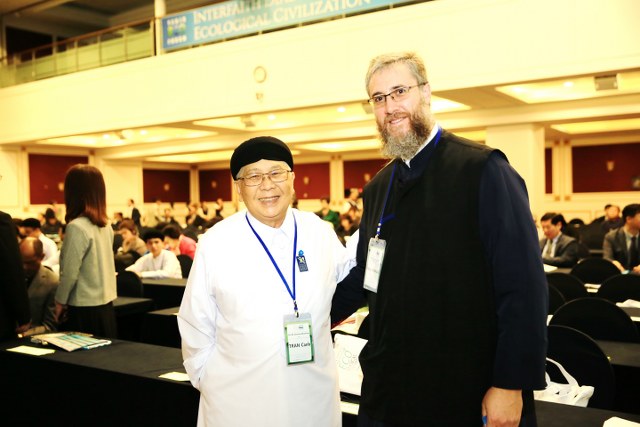 REV. CANH TRAN AND FATHER PERRY HAMALIS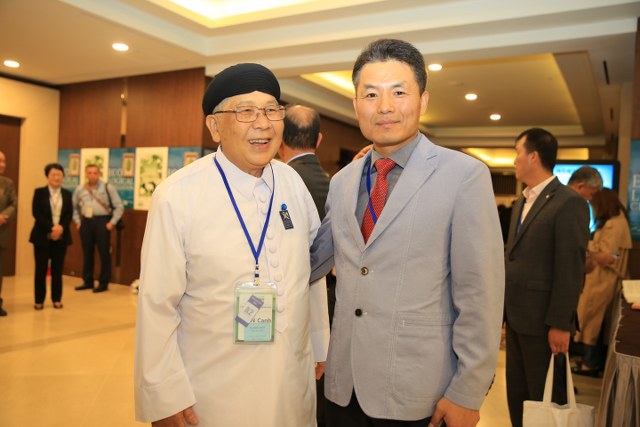 REV. CANH TRAN AND JAY CHA, GENERAL MANAGER ORGANIZATIONAL COMMITTEE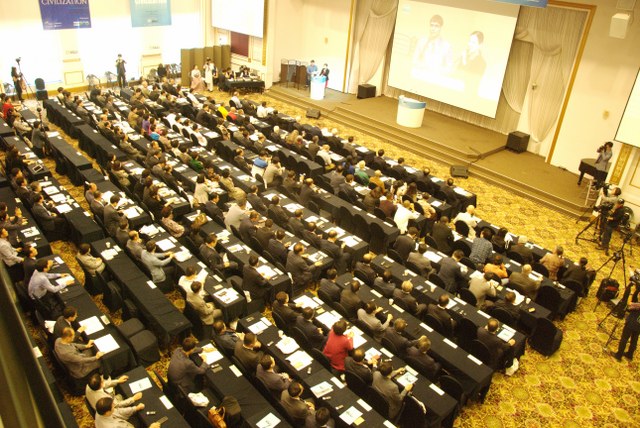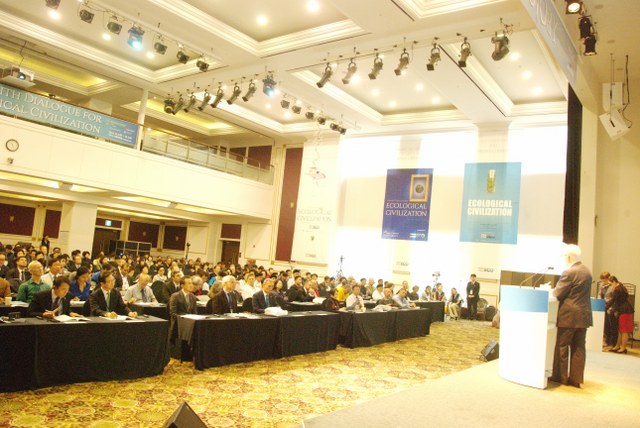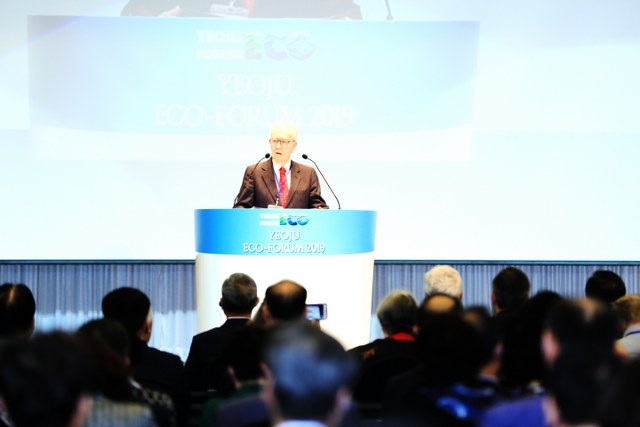 DR. JOHN B. COBB DELIVERED THE OPENING SPEECH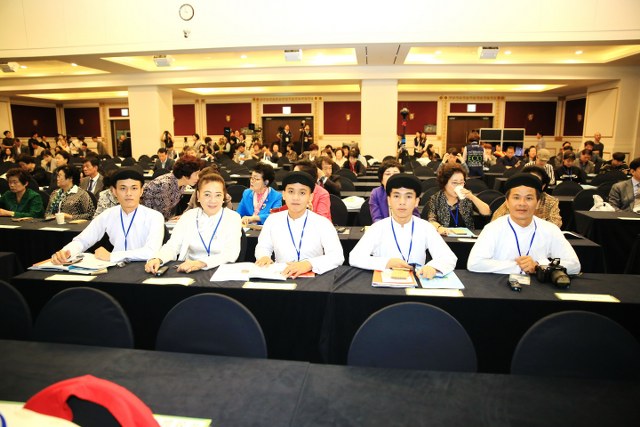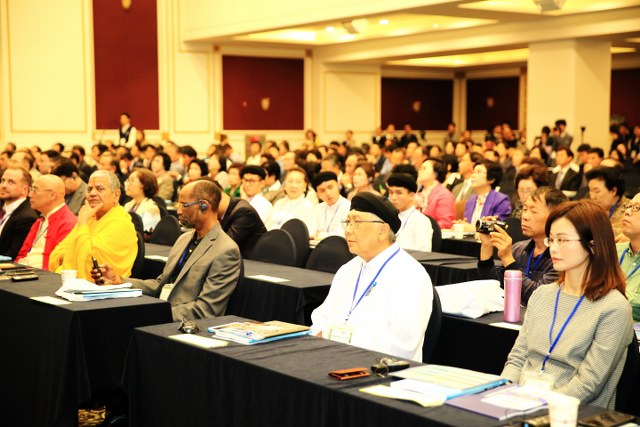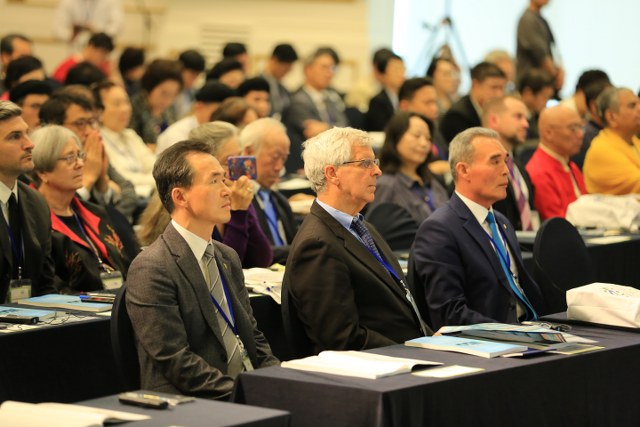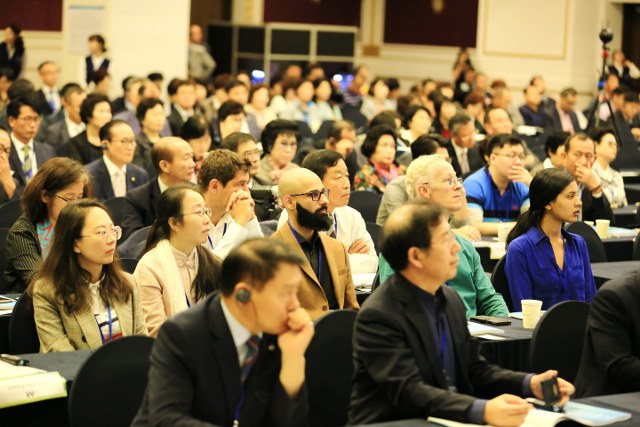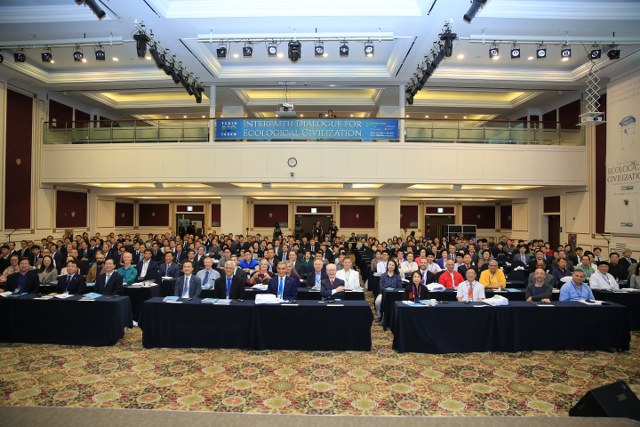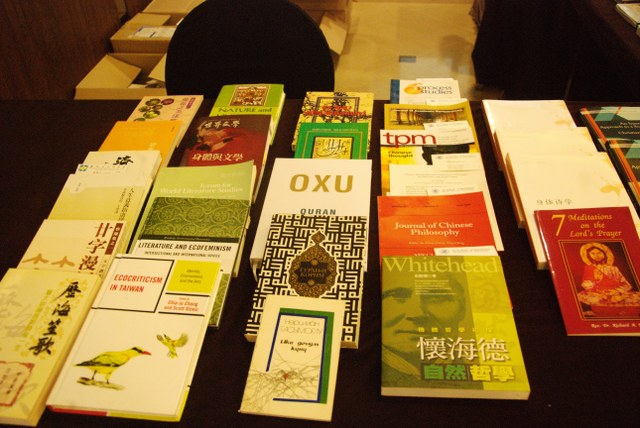 DAY 2 - FRIDAY OCTOBER 4th, 2019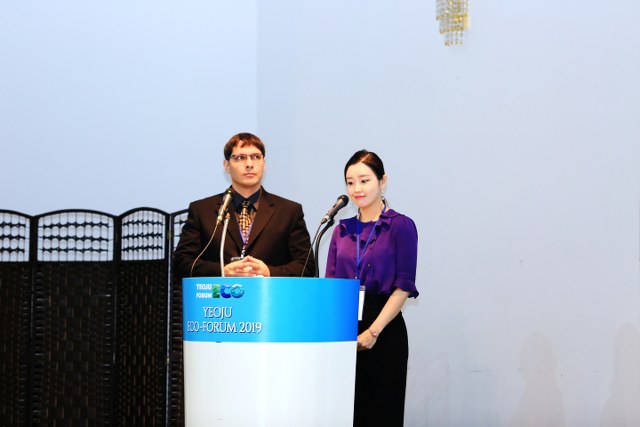 MASTERS OF CEREMONY OF THE CONFERENCE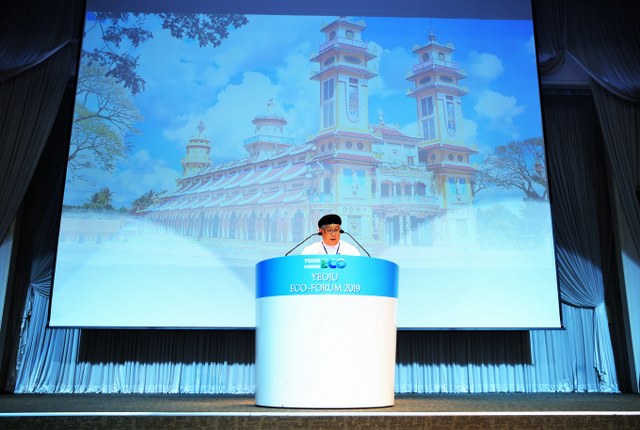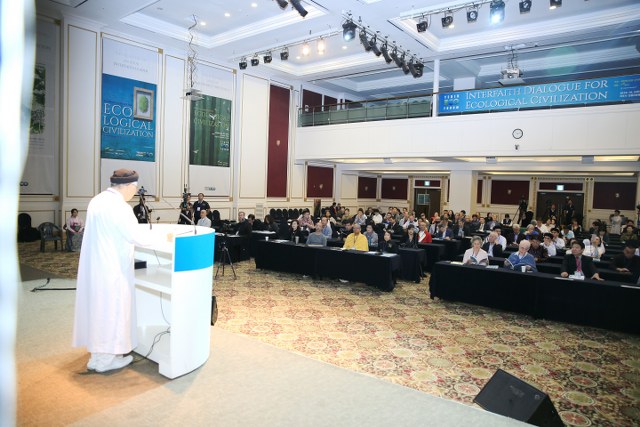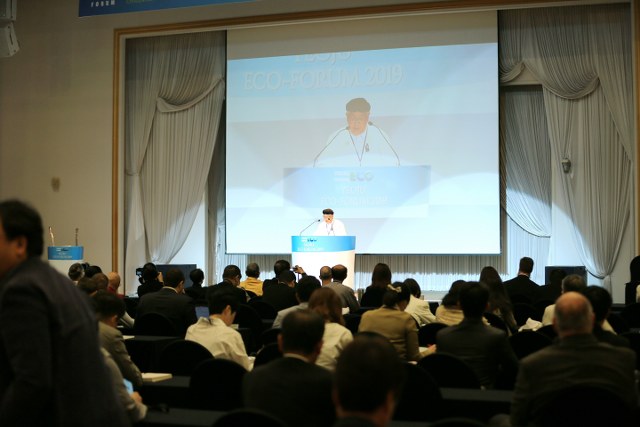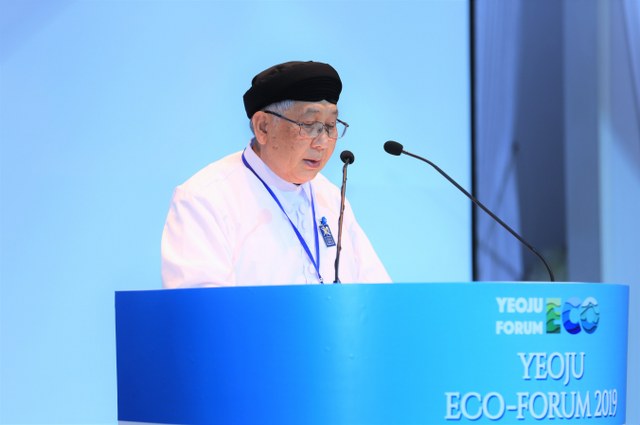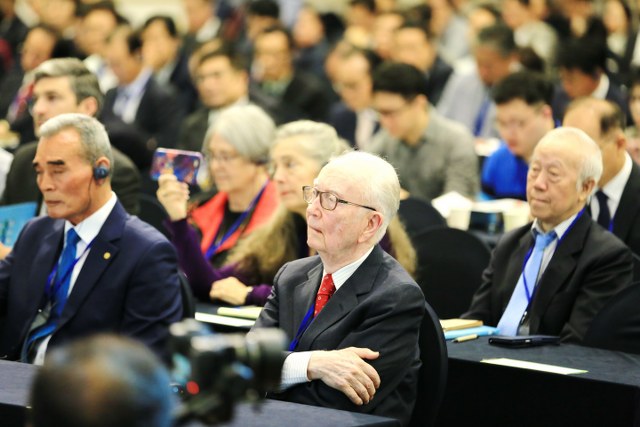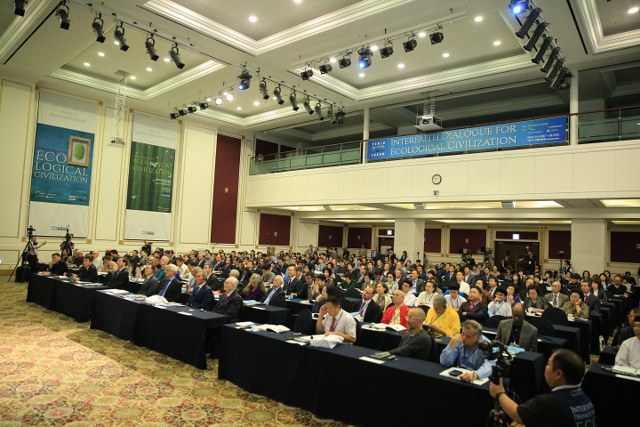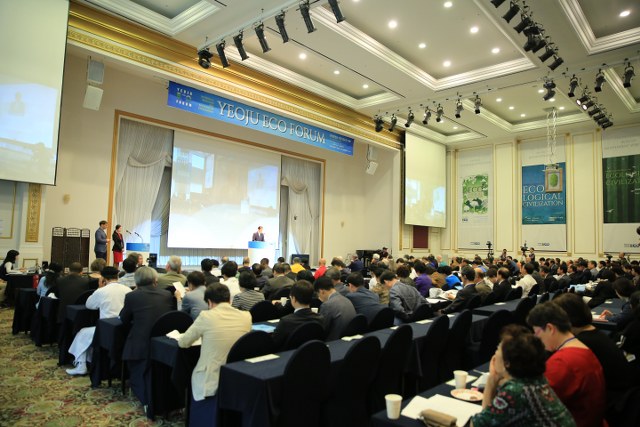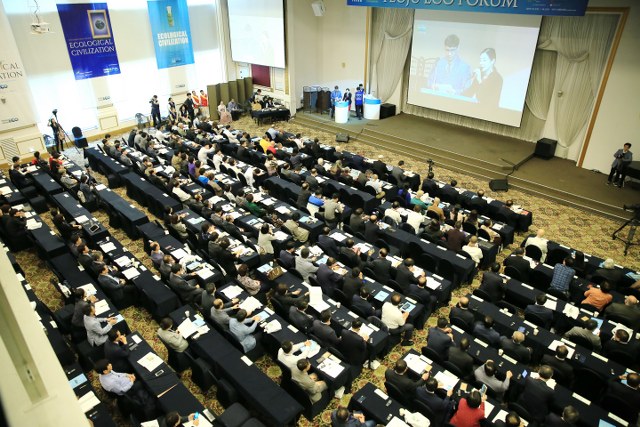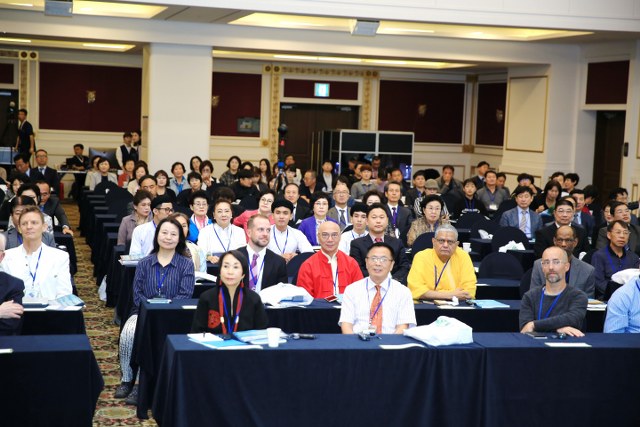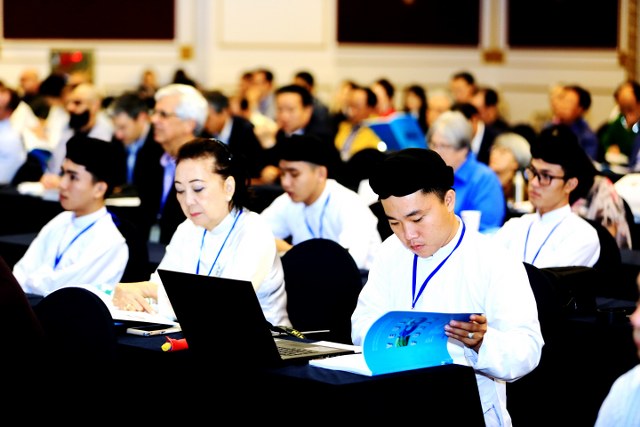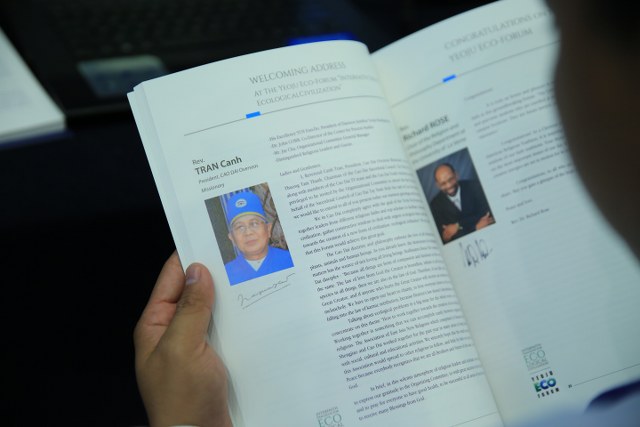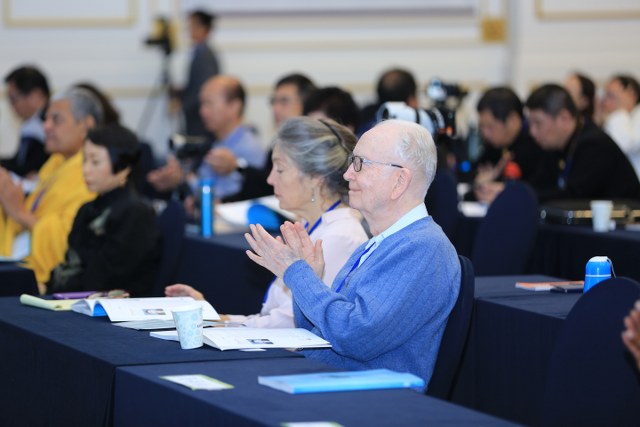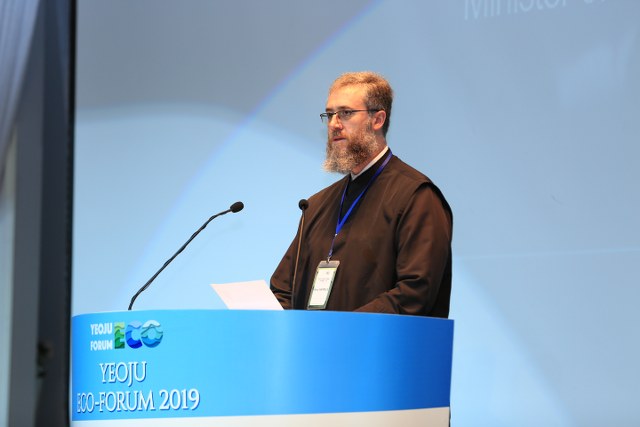 REV. PERRY HAMALIS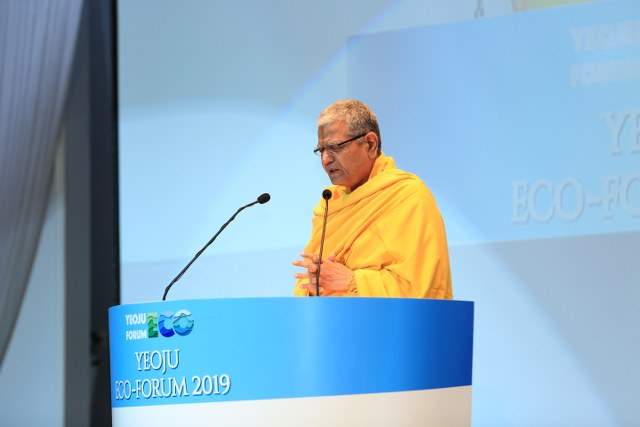 REV. SHRIVATSA GOSWAMI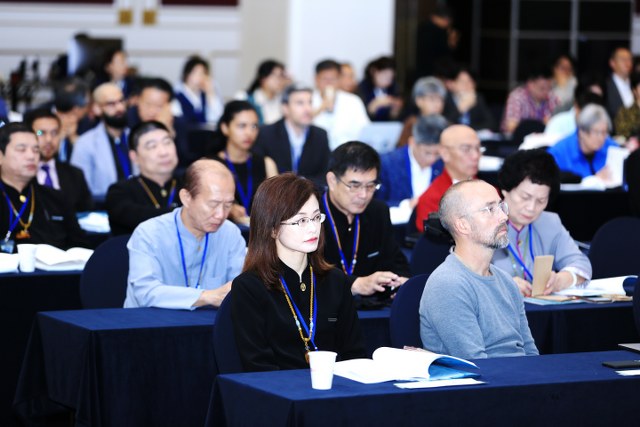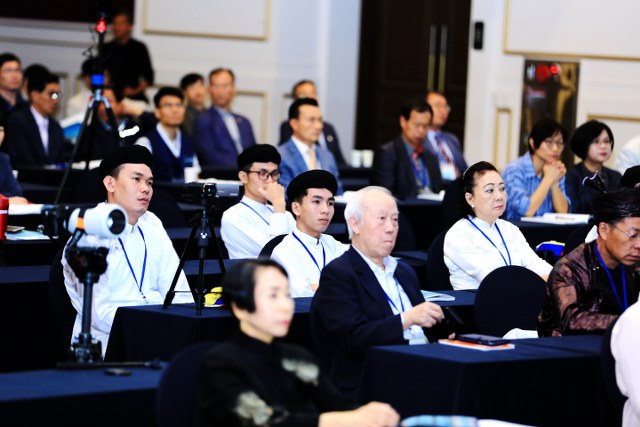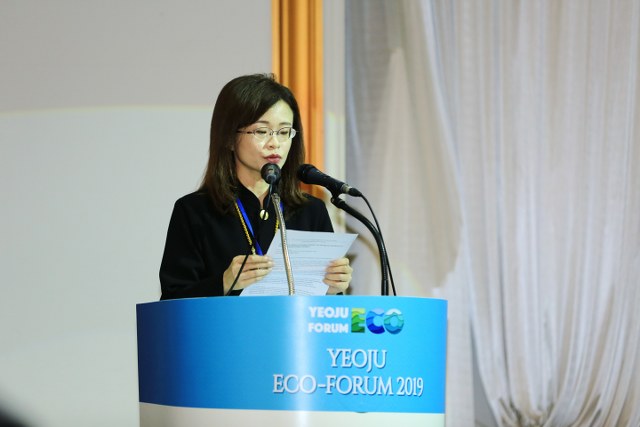 REV. FIONA CHANG OF WEIXIN SHENGJIAO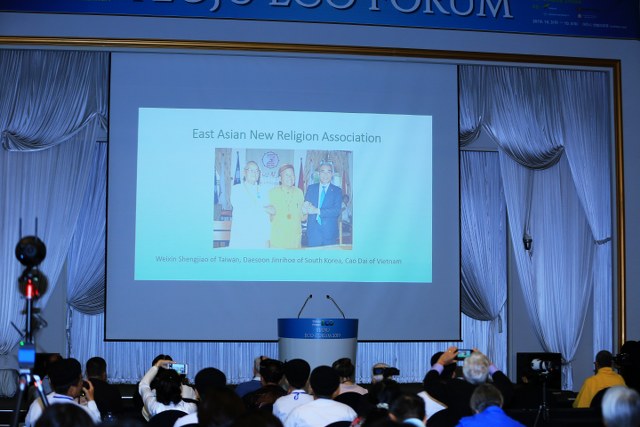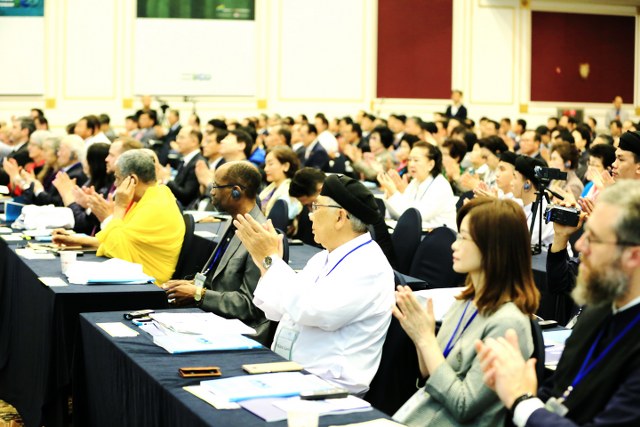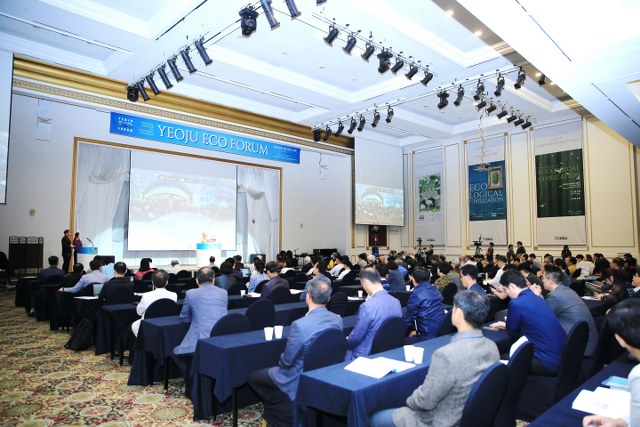 DAY 3 - SATURDAY OCTOBER 5th, 2019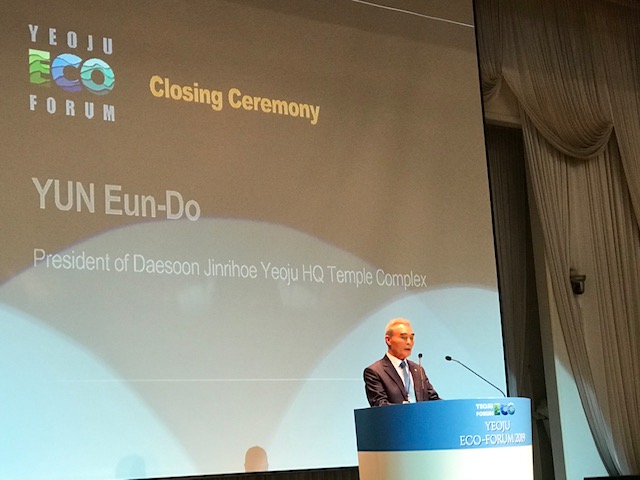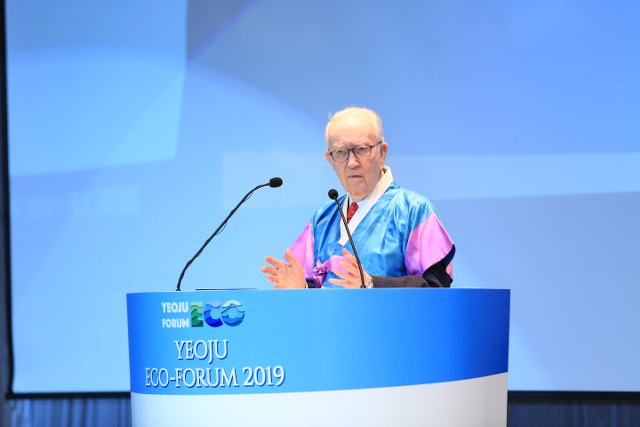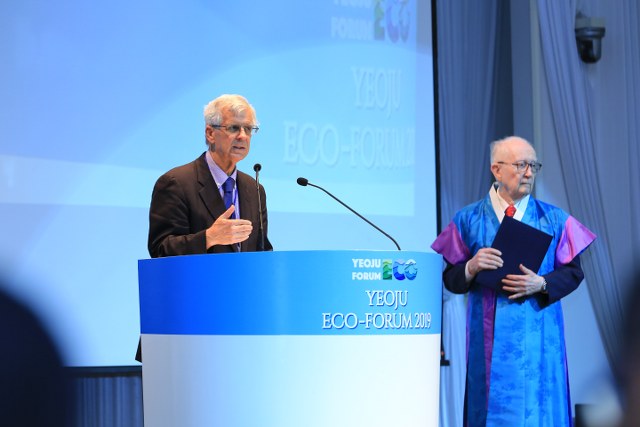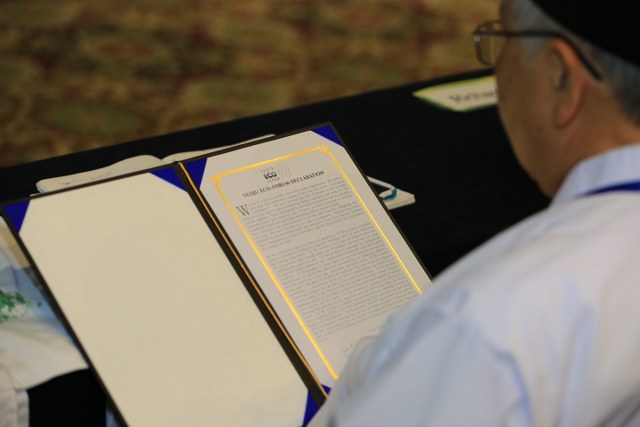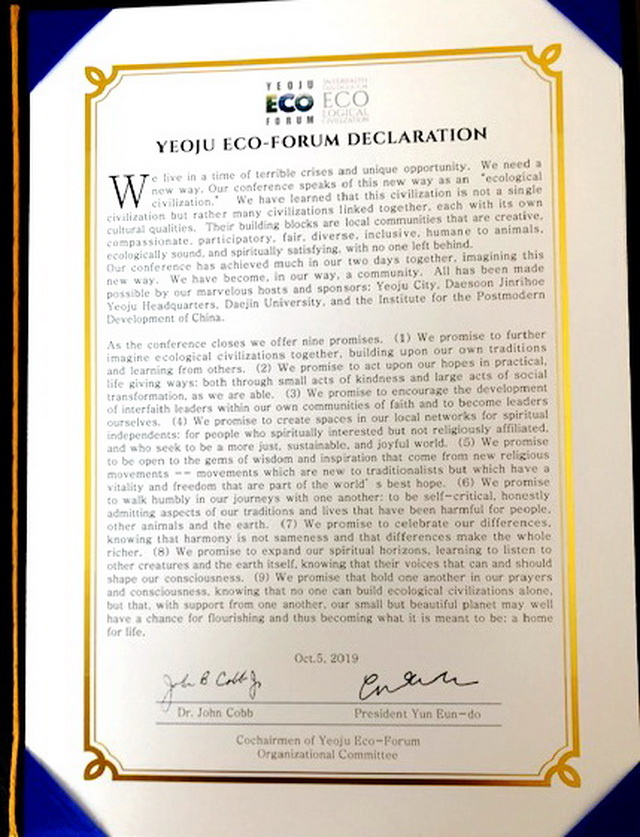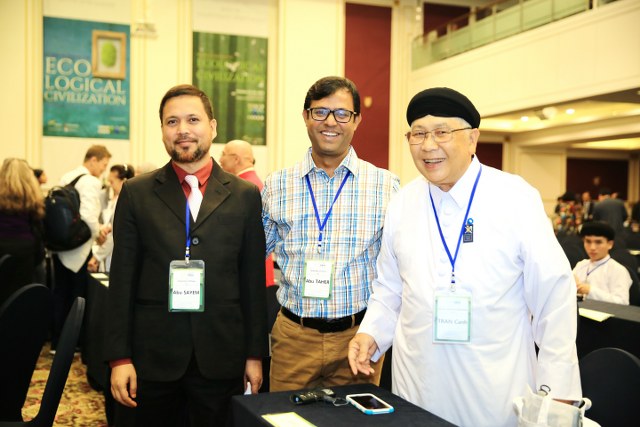 REV. CANH TRAN WITH PROF. ABU SAYEM AND ABU TAHER
FROM THE UIVERSITY OF DHAKA, BANGLADESH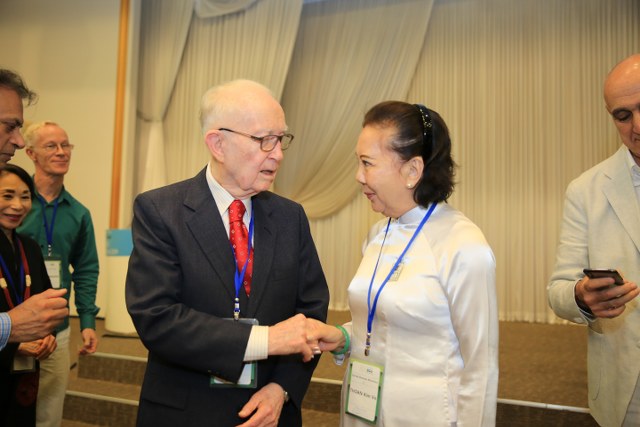 DEACONESS KIM THOAN AND DR. JOHN B. COBB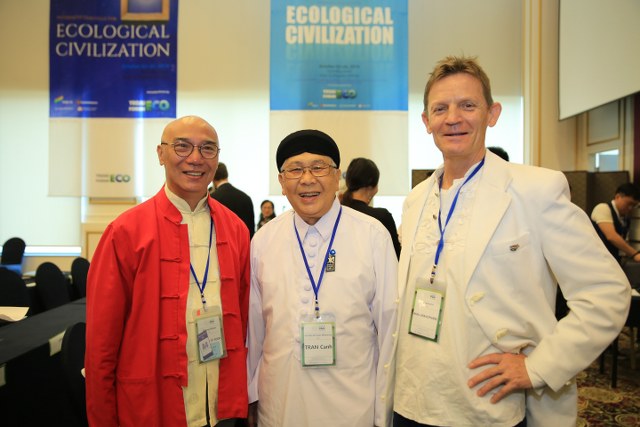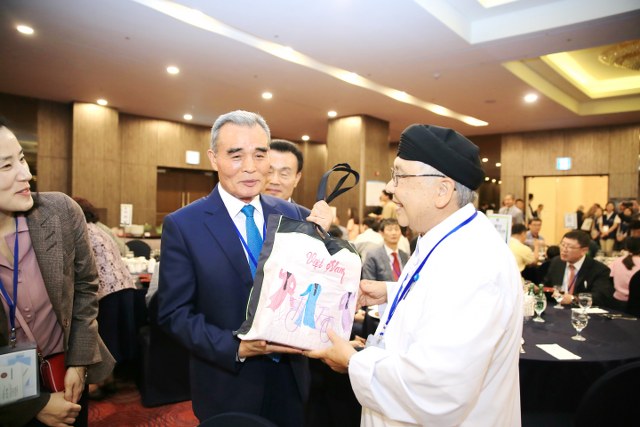 GIFT EXCHANGE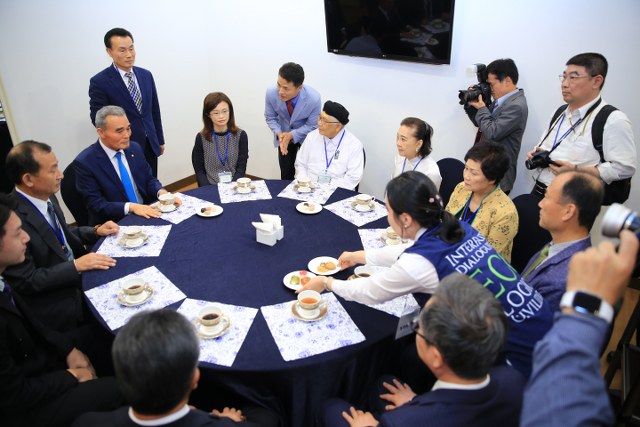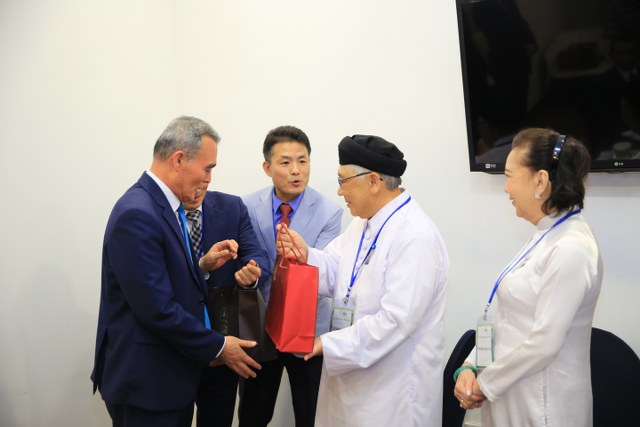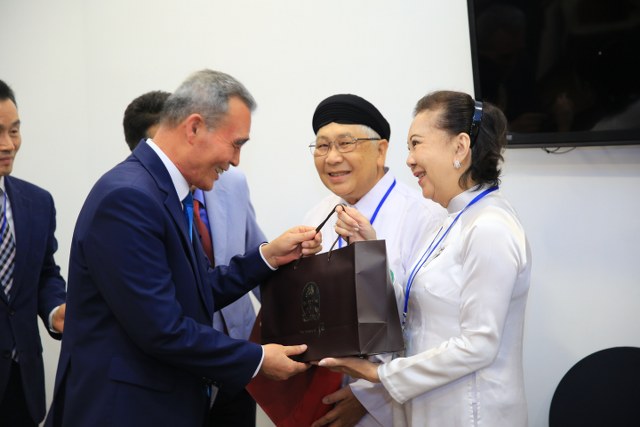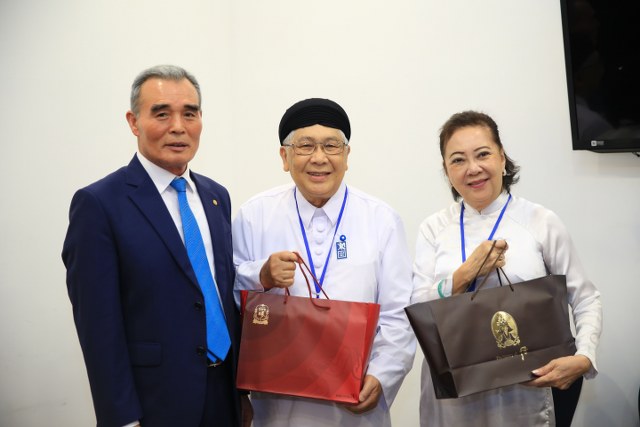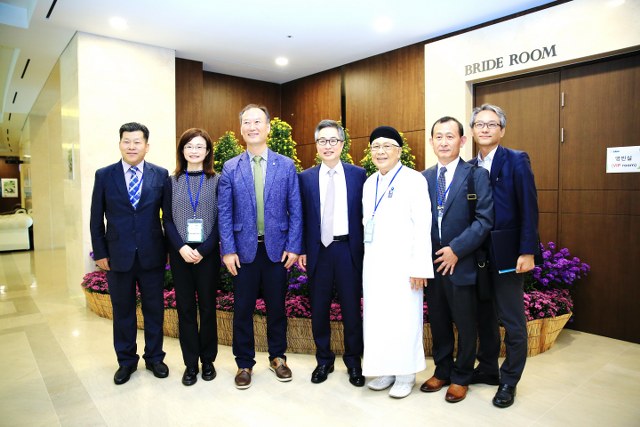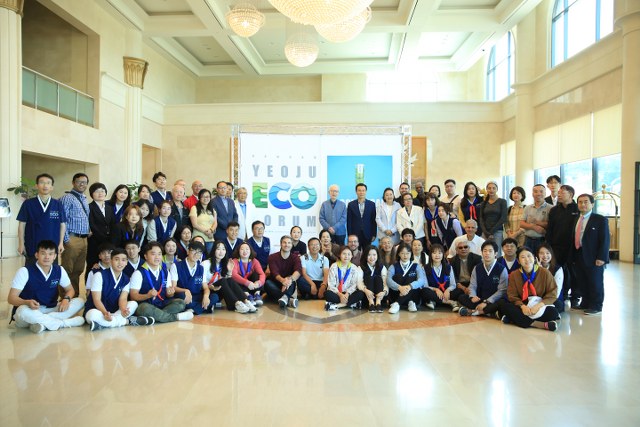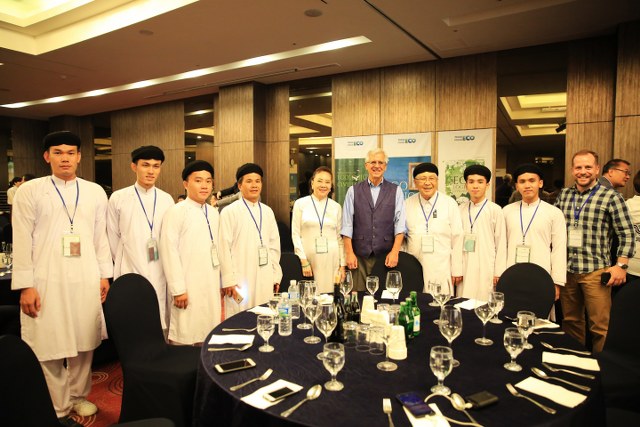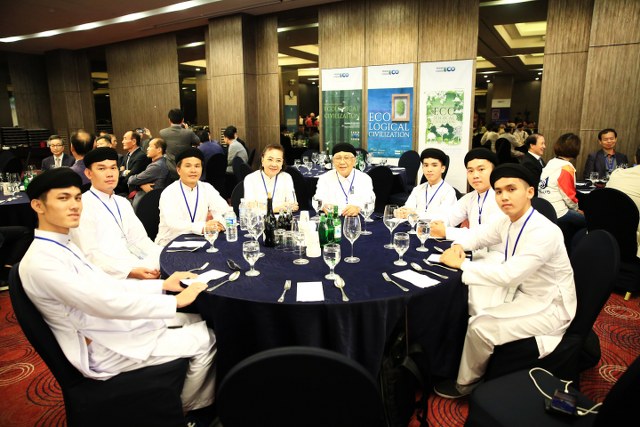 PROF. LEE GYUNWON INTRODUCED THE ORGANIZATIONAL COMMITTEE MEMBERS
AND MORE THAN 50 VOLUNTEERS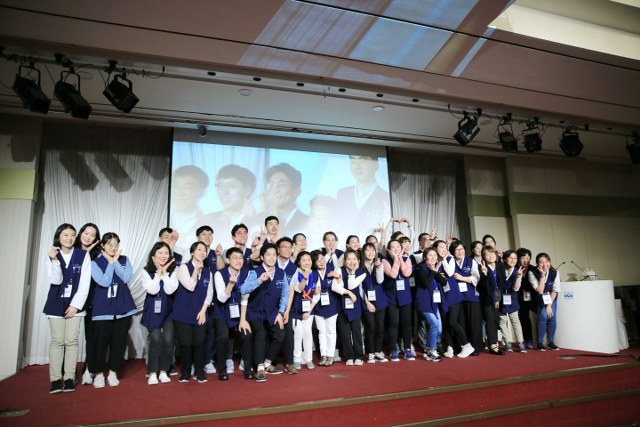 PERFORMANCE SHOWS AT THE CONFERENCE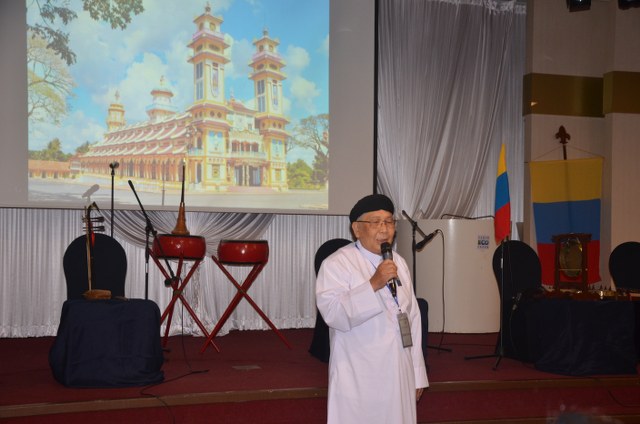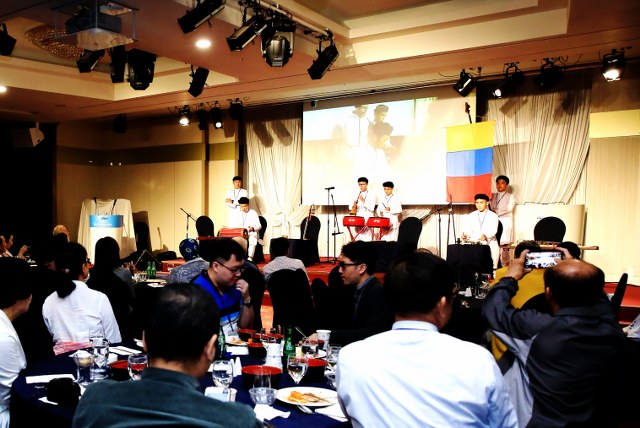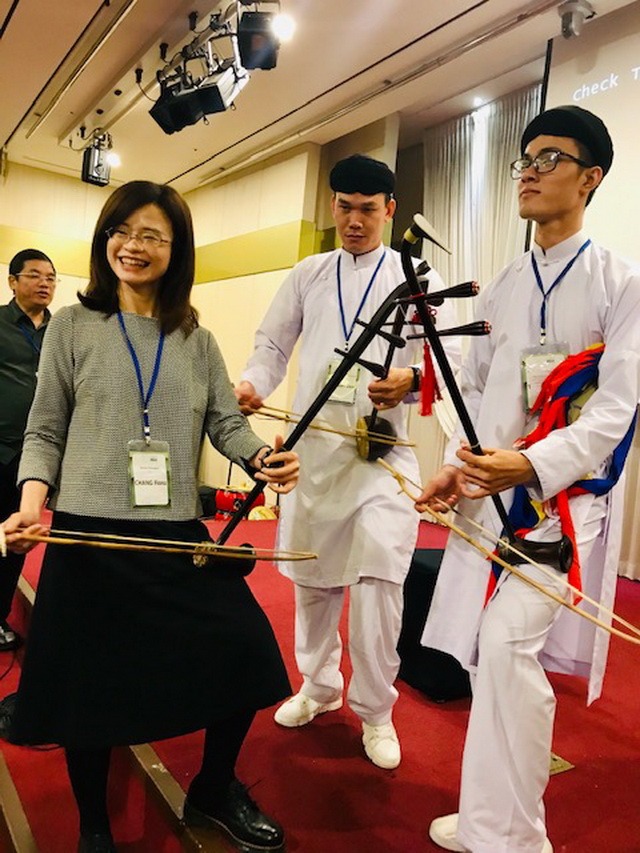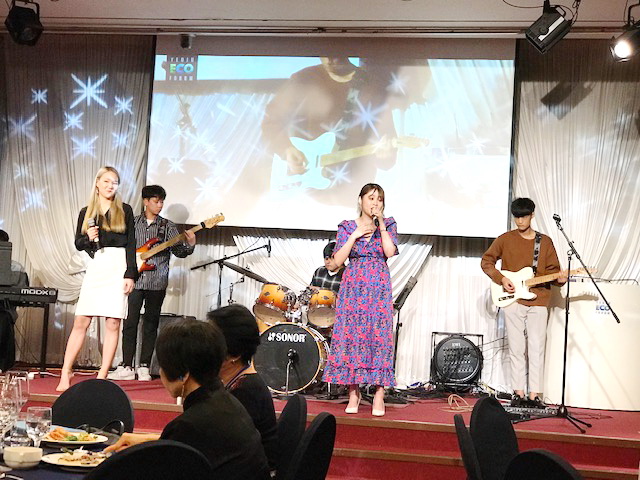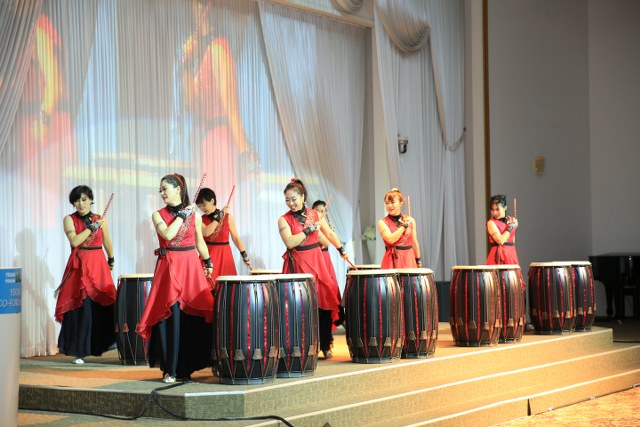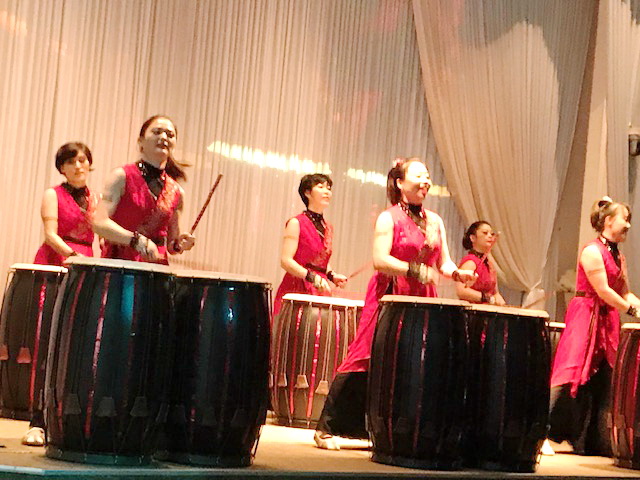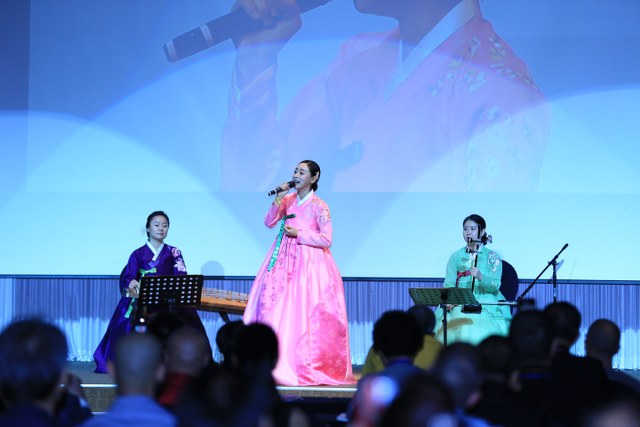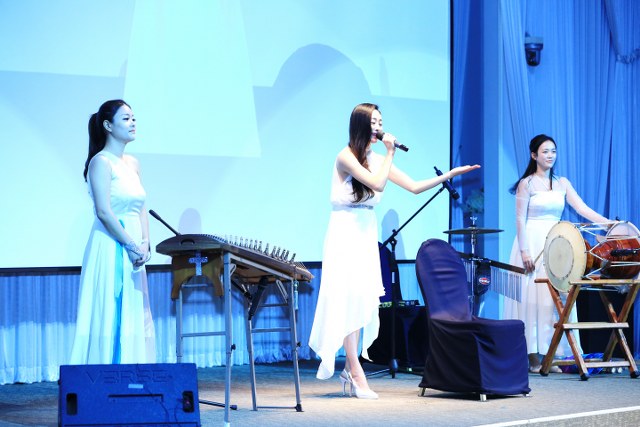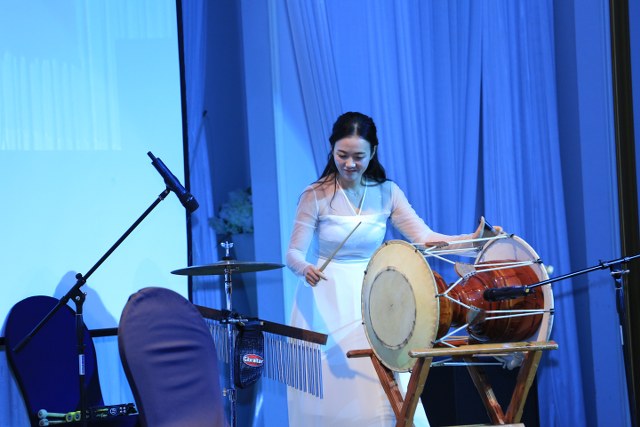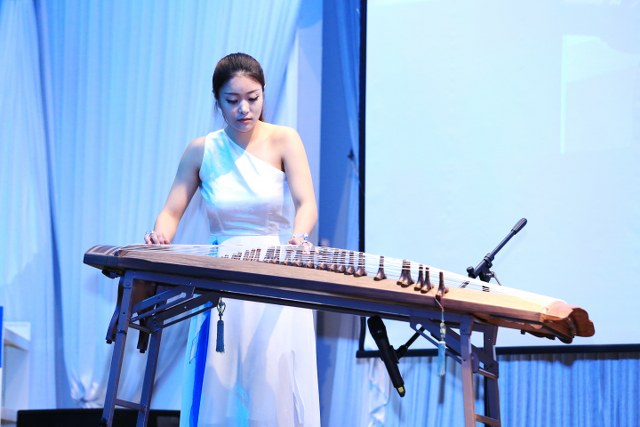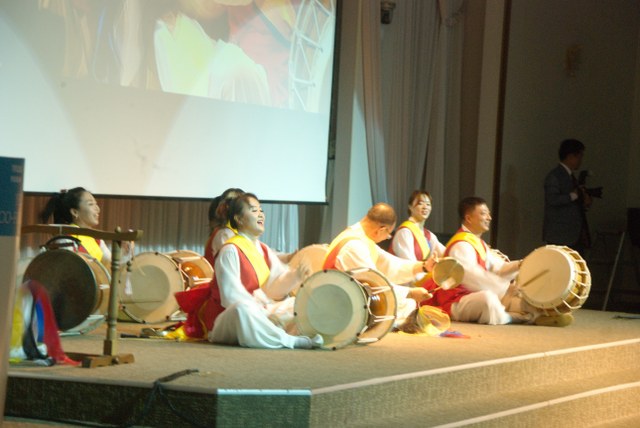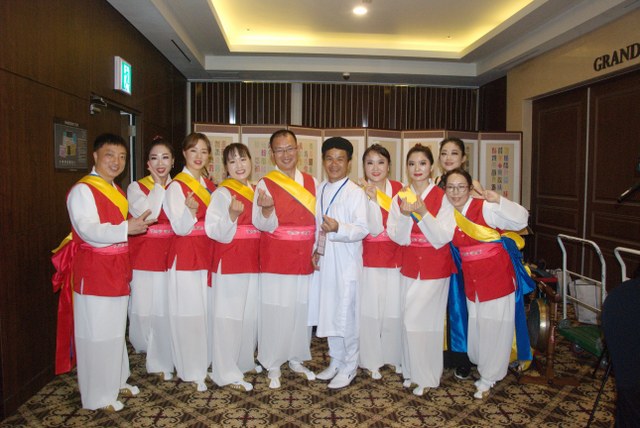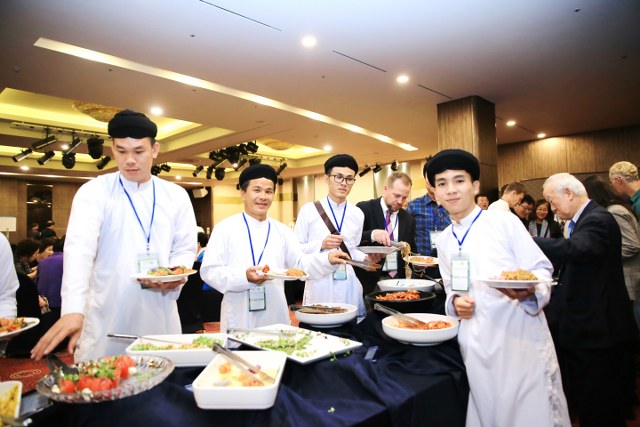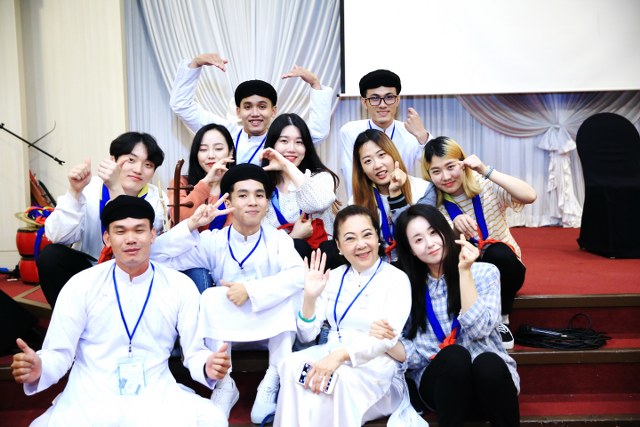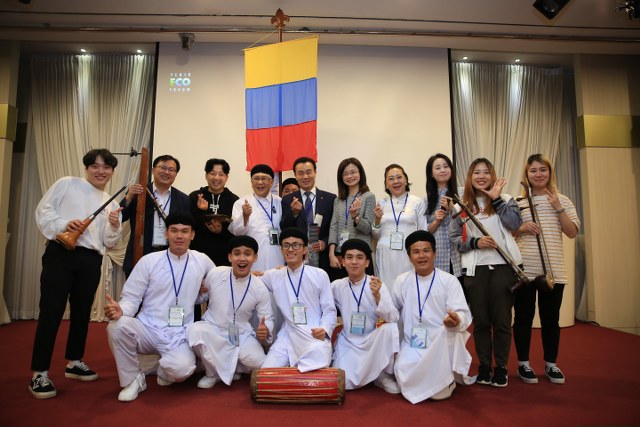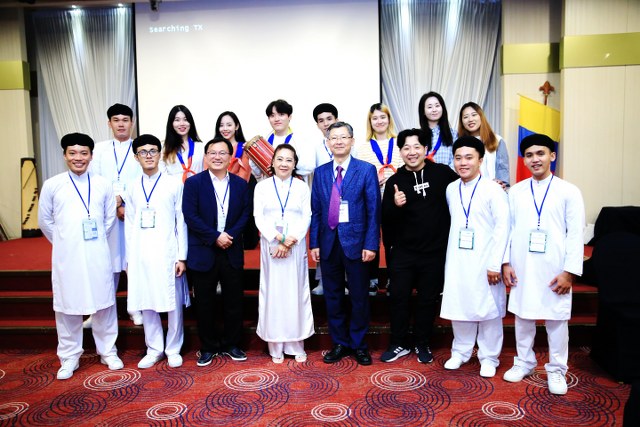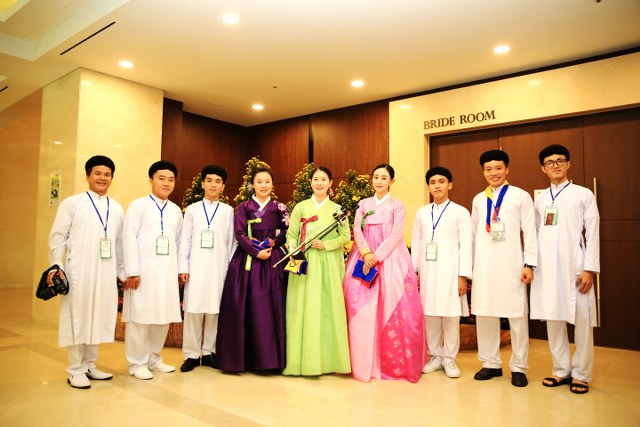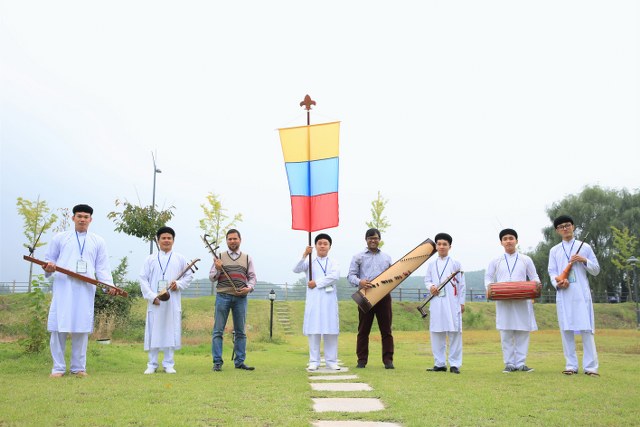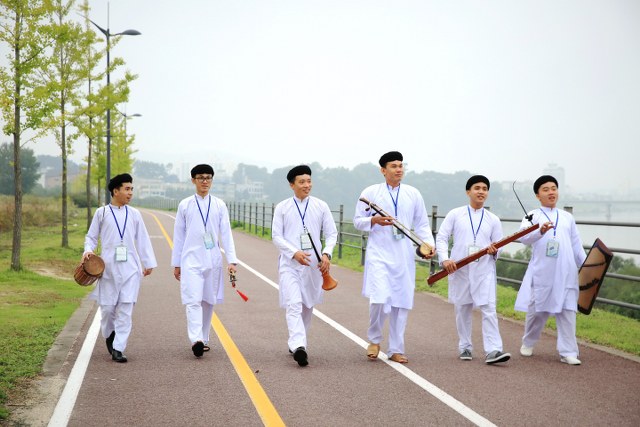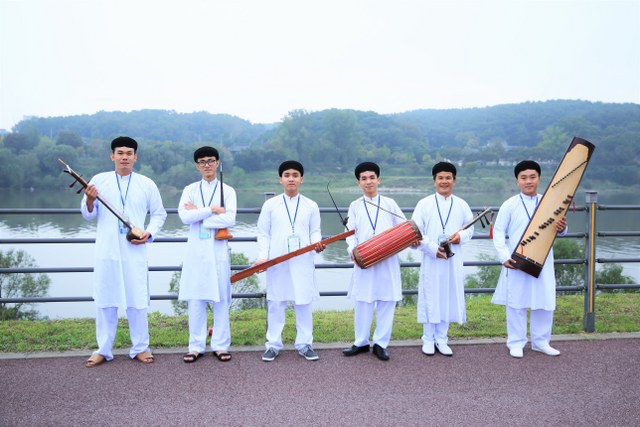 CULTURAL TOUR YEOJU CITY